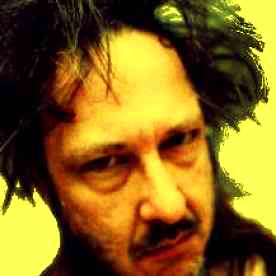 How I Looked in 1996
Previous CDs and Covers
---
Back to Dennis Báthory-Kitsz Home Page
---
Chamber Bowling
Chamber Bowling II
Cold Stones
Descent of the Particles
Architects
Gardens: A Love Song
Into the Morning Rain
Jetlude
Melisma
zéyu, quânh and sweeh
Dancing Despite Despair
Csárdás
Etronalia
Symphons
Exequy on the Death of Igor Stravinsky
Csárdás
Brand 9 from Outer Space
Emerald Canticles, Below
Hang Time
Into the Morning Rain
The Lithuanian Liniment March
Voices Past
Overstuffed
Mountain Dawn Fanfare.
Exequy on the Death of Igor Stravinsky.
Hang Time.
Softening Cries.
Sourian Slide.
The Lithuanian Liniment March.
A Fanfare for Peace.
---
The Original Limited Edition CDs. Sample the composer's music with these collections of performances, electronic pieces, and Midi renditions. Midi and RealAudio versions can be found on the music pages, but these samplers contain premiere recordings, electronic music right from the master tapes, and pretty darn good quality Midi realizations. They are available as "one-off", signed CD-Rs. Please contact the composer for information on obtaining one of these collections. All of these compositions are also available on the single MP3 demo CD. and most can be downloaded via the big list.
*=electronic, **=Midi, ***=premiere performance

For the Invisible (1994)*
Praeludium (All White) (1972)*
Hyptertunes, Baby (1994)***
zéyu, quânh & sweeh (1996)*
exirxion (1996)*
Meditations on the Llama Sutra (1993)*
s'londro (1996)**
Missa da Camera (1978)***:
Kyrie
Gloria
Credo
Sanctus & Benedictus
Agnus Dei
Plasm over ocean (1977)***
Almost Not in Progress (1991)**
Melisma (1994)**
Architects (1994)**
The Particles (1994)**
Graag (1995)**
Murkee's Lament (1995)**
Kibble & Timbrals (1995)**
Gardens (1996)**
Jetlude (1997)**
Adouane (1994)**
The Big Drag (1998)**
Into the Morning Rain (1999)**
Electronic Construction No. 1 (1970)*
Electronic Construction No. 2 (1970)*
Electronic Construction in Glass (1970)*
Construction in Sliding Tones (1970)*
Construction in Chorus & Sounds (1970)*
Three Concrete Constructions (1973)*
D'a'lpp (1972)*
Stomach Music (1972)*
Telephone Trip (1972)*
Autoharp (1972)
Four Movements (1974)*
Meditations on the Llama Sutra (1993)*
Llama Butter (1993)***
Chorale Amerkuh (1967)**
Étude (1967)**
Fugue (1969)**
Invention (1969)**
Two Pieces After Stravinsky (1969)**
Numa (1989)**
The Herd (1991)**
The Blowout March (1987)**
Variations (1972)**
Csárdás (1989)***
Rough Edges (1987)***
Emerald Canticles, Below (1993)***
Thièle (1991)***
Windows on the Moon (1993)**
Seven Chocolate Eclems (1992)***
Cat Dances (1992)***
Hoots & Honks (1996)**

Yçuré (1990)***
Softening Cries (1991)***
The Lily and the Thorn (1990)***
---
---
Contact Form
---