---
How to Get Here from There (Stomach Music to Sourian Slide)
or
Is There a Reason You've Canceled My Premiere Yet Again?
Dennis Báthory-Kitsz
September 27, 2000
---
Copyright ©2000 by Dennis Báthory-Kitsz
---
I began composing in 1964 -- producing 2 sonatas, 5 tone poems, a march, a fanfare, an overture, an étude, 11 songs, 4 choral pieces, 2 passacaglias, a bunch of fragments, even two four-movement symphonies -- before a single one was ever played. Three dozen compositions later, in 1969, I had my first premiere, a tame, one-minute piece for church choir.
It wasn't long afterward that I discovered the merits of tape, and my personal dichotomy between writing what interests me and writing what interests others began.
Garage bands are usually the venue for up-and-coming musicians, but learning music at 15 made me an oldster. I didn't have much instrumental skill, guitar or drums didn't interest me, and no garage bands needed an amateur bass clarinettist with a penchant for Wagner. Besides, I wasn't interested in performing. I wanted to invent music.
In 1970, I was poor, just out of college, living in a tenement in the old-line industrial town of Trenton, New Jersey. Through cut-out Nonesuch $1.99 LPs I had learned about "tape music." I bought stereo equipment and a tape recorder, a Radio Shack reel-to-reel stereo deck with separate record and play heads. I waited every Saturday at the Princeton dump -- upscale trash -- for electronic equipment and old reels of tape. I shoplifted splicing tape.
From 1970 to 1973 I made thousands of splices. Among the compositions were Electronic Construction No. 1, Electronic Construction No. 2, Electronic Construction in Glass, Construction in Glass*, Construction in Sliding Tones, Construction in Chorus and Sounds, Three Concrete Constructions, syne-4*, Violin Construction*, Construction for Trombones and Tape, Fugue*, Praeludium (All White), D'a'lpp, Stomach Music, Telephone Trip, i cried in the sun aïda (also scored), Wedding Music (with live hand-built electronics), and Autoharp.
Several of these (marked *) were destroyed in my 1976 Detonacy.
Discovering tape didn't mean I stopped composing, but it had a profound impact on how I composed. I was no longer satisfied with the sounds of ordinary instruments, or at least instruments played in ordinary ways.
Here are some of the musical "loves" that I identified early: Linearity ... not necessarily melody, but the single line; density ... a weave created from many lines; instrumental purity and instrumental effects; irregular rhythms ... not mathematical, but rather non-heartbeat rhythms; human voices; unique sounds; surprise; humor.
Notice the absence of the word "harmony."
Some of my ideas were manifested in the first piece that I could call "mine," Exequy on the Death of Igor Stravinsky. He died in April 1971, and I wrote this work on that day. It's harmonically dense, and has several aleatoric sections.
In 1970, I wrote pieces that explored 12-tone music, early music, quarter-tones, percussive sounds, quirky rhythms, and odd instrumental combinations. I wrote an exciting string quartet in 1973 that consisted of a master score (a kind of density map in many colors) and sixteen overlays -- four instruments, four movements. Each overlay followed a different path through the music. Alas, the hand-drawn overlays were lost to the players who never performed it and subsequently disappeared, and the full score has vanished.
1973 was a seminal year. I first explored creating an interactive sound environment at the Trans/Medium Minifest (the beginning of the post-Fluxus Trans/Media Arts Cooperative, whose historical site is just opening at transmedia-arts.com), where I combined light-sensitive oscillators and live roses, delayed auditory feedback, sound-sensitive lights, and six channels of pre-recorded electronic music from other composers. 1973 was also a seminal year because, after hand-building circuits for several years, like those used in the Trans/Medium Minifest, I purchased a synthesizer from Ionic Industries of Morristown, New Jersey. (There are photos and descriptions on my website at http://maltedmedia.com/people/bathory/killer.html) But what was ultimately most important to my composition was this: In 1973 I created i cried in the sun aïda, a dream piece that I wrote down upon awakening, and performed to tape.
Having a synthesizer distracted me for a while, as I began building very long pieces. I also arranged about 60 tunes for a burlesque show, arranged Rock of Ages for barbershop quartet, composed a tuba quintet, and began writing "performance pieces." I met David Gunn that year, and our humor intertwined nicely in pieces like Teething Rings, for six criers and babysitter, and Hooby Oarkoid, a composition for recorder duo in several movements. He was on the road while I was in Trenton, and the rules of composition specified that we would write a part for each other to play, and that only the meter and number of measures would be known to either of us. It was, of course, a hideous failure. Teething Rings, on the other hand, had great success.
By this time I was really bifurcated, or perhaps even polyfurcated, creating electronic music that didn't need performance, music for amateurs and even non-musicians, little chamber or vocal pieces (some for my recorder ensemble), complex performance events, and ongoing music for traditional large ensembles.
I was still trying to find my voice, though, and frantically composed 22 pieces in 1975 -- more performance pieces like Candled Piano Music and The Owl Departing, a funny choral tune called O Crewell Fortune, a 90-minute piece Somnambula for recorder and tape, three versions of Network C/R for dancer tethered with body-sensitive electronics, Invocation, Dance and Lament for Twandano, with my synthesizer -- including a battery power pack -- being dragged across the grounds at Pepsico headquarters, the first movement of my Triple String Quartet (finished in 1977), Thirteen Miniatures for voice and the medieval regal on poetry of E. E. Cummings, and, for a play called La Vendetta by the ever-provocative David Gunn, the Lithuanian Liniment March.
Listening: The Lithuanian Liniment March from CD "Symphons" Available at MaltedMedia
Score available only in facsimile from the composer.
Then I started to get dark and discouraged and depressed. I realized that almost all of my performances were with the ensembles David and I had created, or not at all. I wrote quickly and penned piece after piece, regardless of its craft, just for the experience of performance by our little groups. So I slowed down my composing and concentrated on writing larger pieces formed carefully for our ensemble. Two of those pieces were the 1977 chamber opera Plasm over ocean and the 1978 Missa da Camera. To my mind, both of these were unqualified successes.
Plasm was one of the first renewals of the idea of chamber opera, using anonymous costuming and a "Greek chorus" style of presentation, uniquely designed and hand-built instruments, a quasi-existential text, and multiple tuning systems.
The Missa da Camera was a different animal, and it was the first composition that I can, in retrospect, trace back to a technique I invented which I came to call Expansion-Contraction Linear Modulation ... meaning that parts begin together, and then go their own way rhythmically, melodically and harmonically, and finally rejoin. The Missa was given a dual premiere by the Dashuki Music Theatre: at the Delaware Valley Festival of the Avant-Garde, in a parking garage, and later the next day at the last New York Avant-Garde Festival, actually held in Cambridge, Massachusetts.
Listening: Opening of the Kyrie from CD "Voices Past" Available at MaltedMedia
Score available only in facsimile from the composer.
I hadn't given up humor or performance art during this time, though. In 1978 I also wrote a year-long performance piece for boxes and whistles called Gendarme, one of the first uses of a microcomputer in interactive performance, Rando's Poetic License, and the first Car Horn Symphony.
In the early 1980s, my psyche started to spiral downward. I wrote very little, instead writing articles about computers and starting a business which ultimately failed.
When I did return to composition in 1985, I created an hour-long performance piece called Echo, originally conceived a decade earlier but finally written down. It used hand-made instruments (the Windharp, Triangulum, Bleebler, and Infernal Machine), costumes, and computers with interactive software I had written. There is no video or film document of Echo, only an audio recording and photographs.
But despite its success, this was still my own performance. Every composer looks for a break to speak to a larger audience and have works crafted by performers with different views and ideas. I'd started writing in 1964; now it was 1985, two decades gone by. I had just heard Steve Reich's abysmal The Desert Music, and all the accolades it was getting, and realized I could do as well if not better -- this was no masterpiece, like Music for 18 Musicians or Tehillim. David Gunn was, I think, feeling somewhat the same way. In humor and a little bitterness, David and I created the performance series "Closing the Book on the Avant-Garde," where we performed dozens of pieces, including my brand-new third symphony, Manta Canon for orchestra, chorus, six percussionists, two pianos and descant soprano. It required two conductors, one with cue cards! Mantra Canon was written in a fury of 17 days, from first pencil to paper to first rehearsal, all 1110 measures and 30 minutes of it ... fury is sometimes good for creativity.
Listening: Manta Canon, opening, from DAT #1 cut 41
Score available only in facsimile from the composer.
We also each wrote a cabaret. If you want traditional, here it is, the conclusion of Beepers.
Doors started to open. I received a commission from one of the Mantra Canon pianists, Michael Arnowitt, and wrote the atonal minimalism piece Rough Edges. There was a repeat performance of Mantra Canon with large orchestra in 1988. The Vermont Contemporary Music Ensemble commissioned A Time Machine for chamber ensemble, dancers, and computers. Tubist Mark Nelson commissioned a performance piece for tuba and tape, and I created for him Llama Butter, with the mating llamas, voices, and electronic sounds combined with black-robed tuba player, torches, and dancers.
By the early 1990s, my work was a mix of dense, threaded pieces; performance pieces with voice exploration; and electronic work with sampled sounds (though I still wrote small chamber music pieces for my own entertainment). The density is heard in Emerald Canticles, Below, created for Toronto's 49th Parallel Festival, and Softening Cries, commissioned by the Sage City Symphony. Emerald Canticles, written for clarinet, violin, cello and piano, always has the shadow of Messiaen's Quartet for the End of Time on it, but I think it survives in the shade. Softening Cries, part of an as yet incomplete Symphony No. 4, threads together a rhythmic ostinato part for strings, a chorale for string quartet, two brass chorales, plus woodwind cries.
My work in sampling began after a long hiatus with 'playback' (tape) music. Yet it is always informed by those early days of tape -- that is, never waste a sound. No Money (Lullaby for Bill) was drawn entirely from the voice of Bill Gates, and bellyloops was created completely from television commercials.
What most stands in the way of an independent and eclectic artist is the inability or unwillingness to be categorized, or at least to market arbitrary categories. I am a terrible marketer. In a sense, in this time of digitalizations and specifications and sales figures and money-drive, I'm my own worst enemy. I respond to commissions with great but difficult music, or grow my styles so I make likely money-people (such as orchestra managers) fearful of what I might do to their audiences.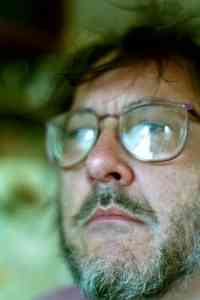 I don't usually challenge deliberately, but when presented with the opportunity to work with wonderful musicians, I write the best I can for them. Sometimes, it's exactly what they want. Sometimes, they quietly go away ... and leave their commissions unpaid, as happened this year with a work commissioned for Vermont's Warebrook Festival.
I'd like to finish with three pieces, one -- The Moon -- from 1992 that uses concepts I started playing with 30 years ago, and two pieces from 2000: Sourian Slide, a lush work for chamber orchestra that's about as far from The Moon as, well, we are, and Snare:Wilding, a composition based on television commercial samples.
---
---