A 365-Day Project
"We Are All Mozart"
A project to create
new works and change
the perception of the
music of our time.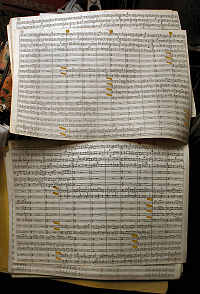 January 2, 2007
As mentioned yesterday, today's piano piece for Marianna Rosett was guaranteed to be tricky. I knew just a few things about the performer, hardly enough for the intimate understanding that makes composition personal. Still, there was her photograph, which I studied. Just enough, yes.
The composition is called Toccata: Delle Montagne Verdi, a piano touch-piece from the Green Mountains. It starts with a personal fascination, the simple tune in hollow tones -- unisons, fourths, fifths and octaves -- with chantlike rhythmic flexibility. This morning during the chores (coffee first, then feeding horses and cats, bringing in kindling, getting the wood stove cranking again, doing some wash, answering email) the two-part homophonic melody formed itself. But there's trouble with such a tune. It is self-standingly complete. It gets humming itself inside the mind, and loops and loops. There's no more to it.
So instead of extending it, I made a set of eight micro-variations (not even variations; more 'recastings'), some only a single measure long. They are integrated to flow from one to the other and create a coherent, three-minute piece with the features of a toccata: lots of finger work, florid and fluid passages, and a single tonal basis. Under someone's human hands, it will warp and weft in a shimmering rainbow of sound.
There is a score, and a (non-shimmering) Midi demo for streaming or download.
Tomorrow is a composition for theremin for Ann Cantelow. If you haven't ever heard a theremin, visit Peter Pringle's website. He's a fine player and a fine historian. And if adventure is your musical thing, read Ether Music and Espionage. Hot.

No exciting photo today. Just what Oranjeboom accomplishes while I compose.