A 365-Day Project
"We Are All Mozart"
A project to create
new works and change
the perception of the
music of our time.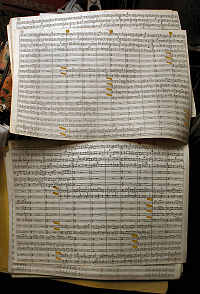 January 1, 2007
The first piece is done. Writing on the spot is tough; doing it with months to consider it -- even without touching a single scrap of paper or a computer keyboard -- gives it time to develop, even if my mind was consciously pushed away from the thoughts. Noah Creshevsky commissioned Graffiti, and this morning I pulled up his voice from a Kalvos & Damian interview from a few years ago. His richly evocative Great Lakes sound came intimately out of the headphones into my ears. It is New Year's day, and this morning it felt celebratory. I'd make a piece with scraps of his voice, the best little sounds, vowels mostly, and some consonants.
Some were left naked, some processed, and the lot popping out first with original clarity and then being subsumed in a stream of sound. The word "ticking" became a repetitive mantra of coloristic chords and noises. Other syllables became harmonies and drones. By noon, the sonic vocabulary was done, and by dinner there was a finished architecture. Then it was composed from the parts, and run through and touched up, and finally mastered. (The sound files were modified in a combination of programs such as Audition and AudioMulch, and mastered in Sonar with Ozone.)
You can stream or download the final composition.
Tomorrow: a piano composition for Marianna Rosett. This will be tougher, as I don't know her in person (but as I was typing this, a photo arrived). Personal moments spark the creative source.
* * *
Yesterday I mentioned that the rhythm commentaries had received some responses. Here is one from Alyce Exinton:
It seems, if I'm reading what you're writing, that you're articulating a kind of musical take on ancient Chinese scrolls- or, as you might know them today, Warcraft/ Starcraft/strategy gaming.
That's right. The mini-map-in-the-corner structure of navigation of many strategy games is merely a regurgitation of the reverse-perspective of Ancient Chinese scrolls. (A concept we Westerners have had a hard time getting our heads around since the "window"-perspective of the Renaissance). Where most of our visual landscapes are conceptuals from the perspective of a foreground and infinitely distancing background, the chinese -- centuries ago, no less -- brought the background to the foreground, and let perspective drift and flow with the viewer's own impulse and instinct. Essentially, the viewer was brought into the art.
(These scrolls were often hundreds of feet long, by about five wide, and depicted scenes like city-scapes with markets and villagepeople doing business and going about the day, children playing, men walking, women talking, etc. The viewer scrolled about, and was free to- if he felt so compelled- to inject his own narratives into the lives and existences of the objects, induce causes, make the piece his own.)
Rhythm seems to be of great interest. More commentaries when permission to publish them arrives.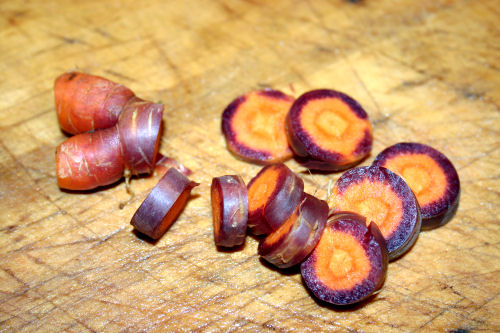 We ate the last of the purple carrots from the garden, out from under the snow.