A 365-Day Project
"We Are All Mozart"
A project to create
new works and change
the perception of the
music of our time.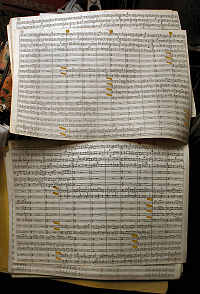 January 3, 2007
The theremin is a difficult instrument to play, and even moreso to compose for. The instrument itself has almost no character; it is electronic, simple, an oscillator based on interference patterns. All its color comes from the circuit layout. Whatever mysteries are ascribed to the instruments lie in the behavior they cause in the performers, who will treat an old RCA theremin like a Stradivarius. The instrument is played in the air -- one hand plays the volume (closer to the loop is quieter) and the other hand changes the pitch (closer to the rod is higher). In some ways it is played like a string instrument, with the distance between low notes farther than high ones; on the other hand, there is no analogy for the volume loop.
Playing it demands physical stillness, for untoward body motion (or emotion) affects pitch and volume. Performers can look angelic in their bestilled poses, with only arms and fingers in motion. Sensitive theremin players coax expression in subtle movements of volume and pitch, bringing it away from the colorless oscillator that it is. Vibrato of pitch and volume lend a cello-like sound, and high, swooping figures are the very definition of science fiction film.
If you don't think you've heard the theremin, you probably have. It appeared most prominently in the famous The Day the Earth Stood Still, but also in the theme songs to Dr. Who and Midsomer Murders, and even in one of the variations of There's Place for Us (Somewhere) used in TIAA-Cref commercials. And there are hundreds, perhaps thousands, of performances (average to awful) on YouTube.
From the composer's perspective, the theremin is marginally interesting. Once a few swoops and wheeps have been played, it's hard to imagine something new. Certainly not The Swan (called the Stairway to Heaven of the theremin world). Heavily romanticized by its inventer Lev Termin and his amanuensis Clara Rockmore, it's forever associated (if not with sci-fi) with romantic melodies, cloying stringlike vibrato, and backward-looking composition. (Yes, I've already ranted about this in August and September. No need to repeat.)
So when Ann Cantelow asked for a theremin piece, I was excited and confounded at once. What could be done? Improvisation is always interesting, and the instrument fits in well with improvising ensembles. It's also good along with other theremins and in electronic landscapes. So I thought about it today, and came to the idea in early afternoon: an exchange between the theremin and the player's voice. Romantic themes could creep in and leave, and the subtle tonalities and shifts of pitch could be explored. The result is the flexible Candles of Red Sky, which I hope she will find rewarding and challenging. (Right, Ann? Right?)
There's no demo because it requires an actual performance. But you can download the score.
Two days off composition tomorrow and Friday, and then a composition for the magnificent voice of Beth Griffith.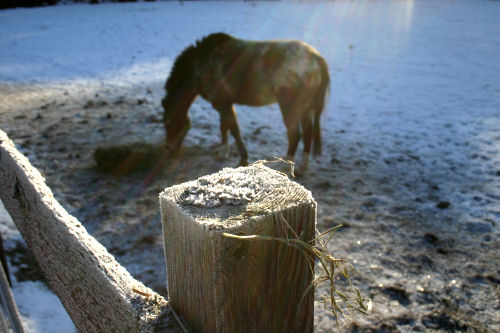 It was a frosty morning, tepid weather for January in Vermont. Valentino sees hay, not art.