A 365-Day Project
"We Are All Mozart"
A project to create
new works and change
the perception of the
music of our time.
October 26, 2006
Mmmmm. When the composition gets stuck, it's time for food.
We cook together, Stevie and I. This is apparently a rare ability, to dance past each other, to know where each implement is, to sense where the prep stage is, and to work from start to finish and have the entire meal on the table at the perfect temperature. Neither of us studied cooking; she learned at home, her father was an oenologist, and she was the chef in a small Mexican restaurant. I learned in my multi-generation family as a child, my father was a meat cutter, and I was later taught Chinese cooking in a small Trenton restaurant.
Both of us believe in fresh food, seasonal food, variety, balance, taste, and nutrition, plus warm plates and cloth napkins. It makes being together a long time especially joyful. Neither of us has a culinary argument with each other or philosophical point to make. We were each vegetarians for a while but no longer, use little sugar and salt and lots of herbs and spices. The kitchen is fully equipped from yard sales, the local food co-op (despite the overabundance of wan vegans with bony smiles that make me shrink away), from the garden (except this sad, woodchuck-dominated year), and from what is on sale. Oh, yeah, there are junk food exceptions for me, including PBW's (pink brown & white wafer cookes), Little Debbie snacks, and iridescent breakfast cereal. But mostly it's a handsome & healthy table we set.
Tonight we had a rare treat: crab cakes. The crab was on sale ("On sale" is a phrase that will be mentioned again and again. Sound expensive? On sale. You ate what? On sale. This batch of crab came from the Christmas Tree Shop -- really, no foolin'.), and the rest of the ingredients were so simple, including scallions and a custard base of egg yolk, safflower oil, dijon mustard, cider vinegar, paprika, bay leaf, crushed celery seed, lemon juice and zest, and black pepper. The patties were rolled in parsley and breadcrumbs and fried gently in butter and olive oil, uncovered first to crisp, then covered to deep-cook the custard, and uncovered again to finish the crunchy crumbs. Asparagus (in season from the west coast) garnished with a few thin slices of red pepper and potatoes plus home-made tartar sauce completed the meal. Wine was a Ludovicus varietal of grenache, syrah, cabernet, and tempranillo grapes, a little lusty but actually fitting in well with the tangy crab cakes.
Last night we had bowls. Since August, when Stevie finally found the dol sot bowls she'd been hunting down for several years, we've had frequent bowl nights. These are Korean bowls of black schist-like stone with walls more than a half-inch thick. They weigh several pounds each, and are heated to 550 degrees (or more, but that's our oven's limit) and at the very last moment are placed on the table on oak pallets. Raw food is dropped into the bowls and stirred quickly to cook it. Last night we had spicy beef cut into small strips and marinated in Worcestershire, Triple Sec, and hot sesame oil. The 'supply bowls' (a collection of yard-sale finds in motley sizes, all small and white) contained red peppers, green peppers, scallions, garlic, ginger, mushrooms, leeks and kale, each minced or sliced for greatest flavor and texture. The food is dropped in, stirred, and a cover put on the bowl. Warm rice, hot broth, and sambal await the three minutes of cooking, ready to be spooned over the steaming food. Because nothing is poured off or left behind in a pan, the full flavor is preserved, and because the cooking is almost instantaneous, the texture is firm and natural. The wine was the freshly opened but adequately beathing Ludovicus that we finished the next night with the crab cakes.
The previous evening was simple broiled swordfish (oh, what a deal, at $1 a pound last-day-of-sale), blue potatoes from our garden, rice, and chopped spinach prepared with a local spice powder we picked up in the Czech Republic during the Discovery Channel trek; there the spinach is deep green and robustly flavored. The swordfish began marinating three hours earlier in mushroom soy and sweet red pepper sauce infused into the fish with vodka, and was broiled quickly on a cast-iron platter (one of several very heavy yard-sale specials -- it's amazing how out-of-favor cast iron has become with the rise of non-stick cookware, even though cast-iron doesn't stick after being prepared and nevermore washed with detergent) pre-heated in a searingly hot oven. Wine was a Müller Riesling whose fruitiness balanced the richly flavored ocean fish. (Our wines come from a discount shop that sells small lots and unusual labels, and with the world wine glut, the prices are excellent and the selections always unexpected.)
Monday was another dol sot bowls night, this time with chicken marinated with the bottom of the bottle of Vouvray (whose price has dropped precipitously in the past few years, on sale at $5) and a touch of mushroom soy. The small white bowls were heaped again with peppers, leeks, mushrooms, ginger, garlic, scallions and kale, plus celery and fragrant Basmati rice. (I've learned to cook rice from Stevie; it's something that always eluded me because patience always eluded me -- don't touch it, no, don't touch it, she said, no, stay away, wait, don't touch it. She was right.) An extra helping of sambal went in with the chicken and the rush of spicy steam brought tears to our eyes. We opened the bottle of Riesling.
The previous night, penne pasta (Barilla multi-grain, yes, on sale) with pesto -- not our pesto this year, sadly, as there wasn't enough basil left after the deer ate the herbs -- and a start on that bottle of Vouvray. The night before, dol sot bowls with catfish, zucchini, sobe noodles, and the rest of the chopped vegetables. Before that, pasta with fresh tomato sauce and olive bread. Bowls with microwave-dried tofu (oh, yes, it does wonders for the texture without the oil needed to fry it), nori, rice and vegetables. And on back for sixteen years, each night unlike the previous...
What delights us about cooking is that a half-hour spent unwrapping and heating prepared foods is the same half-hour spent chopping some vegetables and splashing some liquids into a bowl for marinade. The fish or meat or tofu can leisurely marinate for as long as it takes us to work on email or other projects; it demands no attention at all, and can wait another day if we change our minds. During the winter it's particularly rewarding because we cook on the woodstove, which also helps warm the house. In summer we're relegated to a mediocre Sears gas stove, which has neither the range of fire nor the aesthetic appeal of maple and cherry heating a mass of cast iron.
But cooking implements spill over every surface in the kitchen, and are tucked into corners in the bedroom and library and living room -- everywhere -- mostly yard-sale finds, and some copper pots snagged on eBay. Each has a story to tell. One day we were emptying a truckload of various house cleanup trash at the Central Vermont Landfill when a sputtering, dark green WMI truck backed up next to us. Bags of trash and random items were disgorged as we finished our work -- and with them came a single wineglass that tumbled all the way to the floor, hit a piece of wood before bouncing onto the concrete, and rolled to a stop at my feet. The gold-rimmed glass was entirely unscratched, and it seemed to say, take me with you, I'm not ready for this. It was from the Praesidio Winery, and it came home with us where it's used for a ritual toast before travel.
Yes, so many stories. The bread mixing bowl came from Waterlooplein in Amsterdam, and got the evil eye from airport security. The white Grand Marnier serving dish was fifty cents at a yard sale. The case of twenty-four Stella Artois glasses was free during Green Up Day. Glasses from friends, plates from parents. A soapstone bowl from our wedding, giant soup bowls that Stevie's father didn't really like. When everything has a story, the meal itself becomes a composition, even if it's just two people who made food for themselves to eat watching Jeopardy.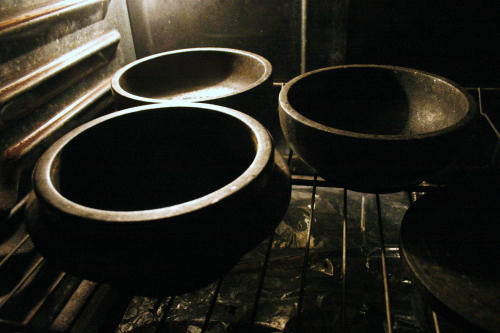 Dol sot bowls heat in the oven.