A 365-Day Project
"We Are All Mozart"
A project to create
new works and change
the perception of the
music of our time.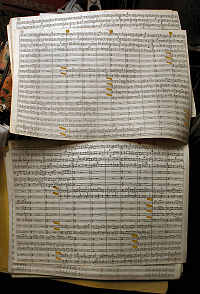 June 1, 2008
If you took the trek yesterday over to the Trans/Media website, you know it was a raucous group with lots of ideas and some pretty good execution. We also left crates of stuff behind, all of which came to Vermont with me.
It is also clear that I care about this old stuff, which is a kind of schizophrenia. What does it mean that I have always looked forward to the next composition or the next media work or the next festival or artistic event while still taking care of the past? I have no interest in Mozart, yet the chain of events from Ockeghem to Mozart to Stockhausen is rich with interest for me. Still, I feel like one of those digger ponies that drags a pile of straw and shavings behind itself without knowing why. Here's the stuff in front of me, now it's behind me, and it's all still here. And, yo, here comes another bucket of grain! Dig, dig, dig, dig, dig...
It might be what drove me to write the book on the country stores of Vermont (still due out September 1). There are relationships that only become clear when the pool of data is large enough. These architectures inform my own music and indeed my own life, and the cycles of planting and harvest as well. I'm still thinking on all of this, but it's late.
* * *
I'm also thinking that today I recorded a local ensemble playing music of Erik Nielsen and Gabriel Fauré. The Faur&eacute? My mind kept screaming, get this over with! On the other hand Erik's music had depth and economy. Entitled "The Falling of Trees," it was composed for violin, viola, cello, piano, and baritone voice, using texts written by his brother Lars. The poetry and music were autobiographical reactions to the death of their brother, and represented for Erik a compositional leap. It left the realm of the technical, political and social -- all among Erik's themes -- and unabasedly entered the deeply personal. I had recorded the premiere this past winter, and upon hearing this second performance I realize that without the dominance of artifice, the work is gripping and has propelled Erik's writing to new level of art.
Once more I wonder what that means. How do I know his work has changed?
* * *
Yes, it is late. The archiving discussion is far from over, but I am tired, and there is much to do tomorrow, including editing this Nielsen recording and beginning a new engraving assignment. I'm also anxiously awaiting a recording of the WAAM piece She Who Saves that was premiered in Sydney two weeks ago. Two natural horns and soprano. Maybe it will be in the mailbox tomorrow...
* * *

Gesualdo thinks: "Out of my space!". Yes, it's spring.