A 365-Day Project
"We Are All Mozart"
A project to create
new works and change
the perception of the
music of our time.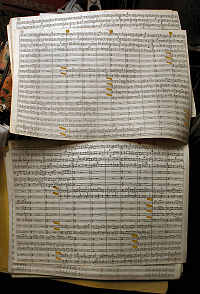 May 30, 2008
The baking worked. The recording of David Gunn's A-Round came out like the day it was recorded -- which is to say, a good recording of a piece that might have had a more serious performance. It's actually a wonderful concept: A round that starts together, and then each part goes its way rhythmically, ad lib, until it returns to a unison cadence at the very end. A simple round never sounded so complex, and should anyone want to give it a real performance, grab a score!
Next up was Caccia Red-Handed, which had already been transferred and noise-reduced a decade ago. Noise-reduction software has progressed significantly since then, so it may call for a re-do at some point. It turned out that David had the original recording of Pecos Lil deVille and Pox Vobiscum will be transferred tomorrow when he brings the last functioning Dolby C cassette player we have to the studio.
Finally, Suspenders. This multi-lingual funny motet with bizarre instruments was premiered at the 1978 New York Avant-Garde Festival, which had been exiled to Cambridge, Massachusetts, where almost no one came. The highest attendance at our several concerts was eleven. It was a distressing end to a series that had introduced hundreds of artists and their groundbreaking artworks to the world. It was a very personal festival as well, with the performance of my own Missa da Camera and sitting with Charlotte Moorman as she learned her illness would be terminal three years later. So NYAGF 14 came and went, unrecorded, leaving only a rehearsal tape. But where? Out of order, way out of order, in a white box with the scribbed back, "Susp. Reh." It was there, it was in perfect condition, and the rehearsal was actually good. Transferred and uploaded.
I was officially done transferring what David needed, but there was more and I couldn't stop -- especially because the baked tape wouldn't keep. The effect of re-binding vanishes in a few weeks. Now or very much later. Circe and Incubus, both electronic pieces, were transferred. Then the avant-garde Herbert Brün-influenced Reflections in a Coffeepot. And the peculiar a cappella weirdness, Nyaah.
But with the tape cued, I also transferred some of mine, including the utterly stupid California Exile Sour for performers and small instruments, a Wedding Processional for piano four hands, a recorder solo When There Are No Words, an excellent performance of the six-voice Specimen, a better quality transfer of Cy-Gît for singers, recorders, playback and dance, and finally the complete 31-minute premiere of Mantra Canon for orchestra, six percussionists, chorus, two pianos, and descant soprano.
This ramble is about archiving, and I will get back to that, but I discovered something else even more important (and also why archiving is significant). These premiere performances had a vitality and edge not present in subsequent playings -- which conflicts dramatically with an opinion that I have held for years. Here is what I had thought: Because composers are so close to their own work, and because closeness in other behaviors tends to let us ride over minor inconsistencies and mentally replace errors with correct meanings (as with proofreading), then errors, misapprehended dynamics, flattened emotional content, and just plain shoddiness afflicts composer-directed compositions. This seems to have been the case with recordings that I have heard of Stravinsky, Bartók, Prokofiev, Rachmaninoff and even later composers including Boulez. But none of these were premieres or even early performances. I had entirely forgotten, for example, attending the Town Hall premiere of Steve Reich's Music for 18 Musicians, which was riveting and far more compelling than the subsequent recording.
The evidence is not really there one way or another, but hearing my and David's premiere performances under our direction -- performances I had not heard in anywhere from 12 to 33 years -- revealed them as far more interesting than faded memory. It also revealed that preservation of early performances (rather than a constant state of re-recording them) is important not necessarily for the pieces themselves (some of these are, to be generous, insignificant) but for keeping alive a more intimate knowledge of style and performance practice as well as a sense of what was meaningful to the composer. Depending on your point of view, that may either seem important or trivial -- but consider that a recording of the premiere of even Mozart's least significant works under his direction (or a keyboard work under his hands) would be invaluable for clarifying style and sense of the Classical era.
Our own era will be an era someday, and someone will care.
More soon, but I have to finish watching House and do paperwork that needs to be in the mail before 11:00 tomorrow morning.
* * *

It's time to replace the roof. I recall when we put this roof on -- December 1991. It's been almost seventeen years now. The roof leaks, the memory fades. I have lived with this roof, but have forgotten how magnificent it felt when the snow began to fall as the last nails were hammered down.