May 22, 2008
In this politically charged season, I'm looking at the composer pictures and realizing how white we are and, a little less so, how male. Our show was (and will be) pretty much self-selecting. We rarely went out and sought guests. We first reached out to composers we knew in Vermont. Soon composers began contacting us, and we often went on the road with a list of recommendations. Classical music is pretty white, contemporary nonpop only a little less so. I don't study these things, and goals of social equality were never in our minds. It was about music, a radio show, lots of jokes, musicology when it fit. When Lisa Hirsch took a peek at the gender situation in new nonpop, she was discouraged because, for example, the League of American Orchestras identified that of the pieces by 160 composers written and performed from the past 25 years, only 19 were by women. Even new nonpop groups fared poorly, just one reaching one-fourth of their composer population -- even though women number one-third of the current graduate students in composition. So I went back to check the K&D roster. By the end of (what I will now call) our 'first series', we had 273 guests -- 196 men and 71 women (a few were groups). Though it was higher than other venues (more than one-quarter women) and a self-selecting crowd at that, it was still lower than I might have guessed without counting.
I have no idea what this means. The proportion remained fairly steady over the show's first ten years. The first guests we have lined up for the new show are two women and one man. So we shall see how it goes.
Which leads me to the last 17 photos of the 51.
Tomorrow, back on topic -- but there's one problem. I'm still searching for (living nonpop) composers whose geographical influence can be heard in the music. I'm so not wanting to be ikiwihi ("I know it when I hear it"). So far I've got me and John Luther Adams, both 30 years in our respective rural locales. If you, dear reader, can locate composers where that influence -- particularly rural influence -- can be heard in contemporary nonpop, please write to me. (You can also find me on Facebook if that's an easier forum for you.)
* * *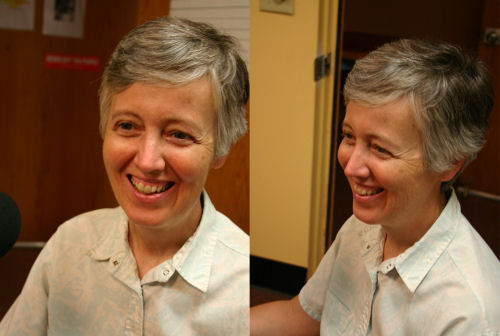 Peggy Madden at the WGDR microphone. Peggy was one of my few students, and joined our show three times as a guest and once as a co-host.

Terry Winter Owens as recorded at the American Music Center in New York. I was long an admirer of her music, and greatly honored to meet her.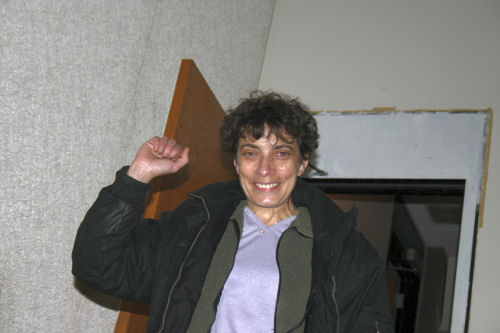 Elizabeth Panzer in Studio Z at WGDR. She joined us more than once on the show -- quite a job, since she brought an orchestral harp with her each time -- including a marathon 3-hour fundraising special..

Robert D. Polansky outside the WGDR studios. Robert's music rose from almost entirely obscure to much better known after his show. Cause and effect? Um, not likely.

Deborah Richards and Clarence Barlow after our concert in Cologne. We never got to interview Deborah, but her performances were often heard on the show.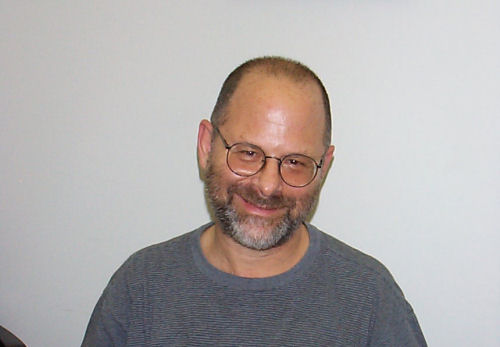 Neil Rolnick recorded at the American Music Center. Neil once lived in Vermont, not more than 20 miles from me.

Frederic Rzewski at his home in Brussels. I love the hunting jacket, and his performance of a work-in-progress was a memorable moment.

Following the Ought-One Festival, David Sachs, Robert Bonotto and Noah Creshevsky look like hayseeds outside my home in Northfield Falls.

Alex Shapiro and Laura Koplewitz played Thelma and Louise outside The Red Kettle restaurant in Northfield. They even had the convertible -- but survived.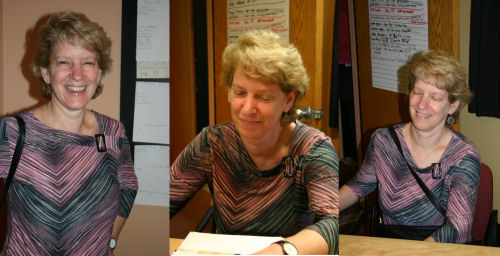 Judith Shatin at the WGDR studios. Startlingly, we actually got to talk about music during Judith's interview. Not sure what got into us.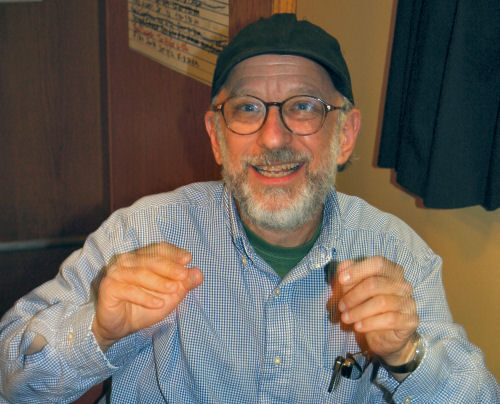 Allen Shawn at the WGDR studios. A Vermont composer, Allen took ten years to accept our invitation to be interviewed -- fine music and a very very funny person.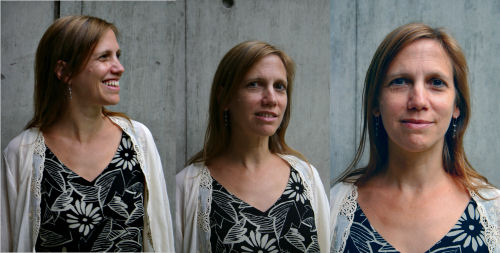 Linda Catlin Smith outside the WGDR studios. From Toronto, Linda had great stories of flying the puddle-jumper to study with Feldman. Linda's music is among my personal favorite work.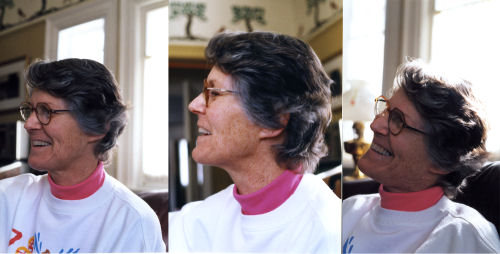 Ann Southam recorded at a bed and breakfast in Toronto. This tour was our first encounter with Southam's surprising music.

James Tenney also recorded in Toronto. We were underprepared for this interview if only because we knew mostly his older works -- but he was gentle with us..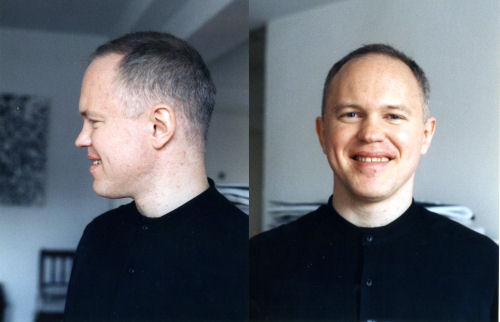 Michael Torke recorded at his apartment studio in Manhattan. This is one of the more remarkably honest interviews we had during the show's run.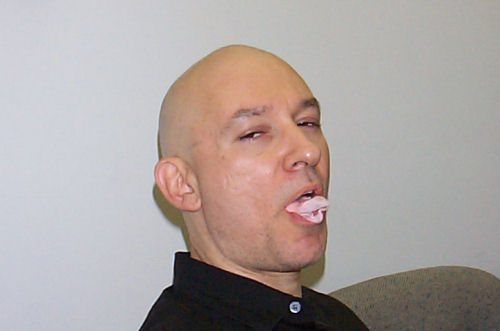 Andrew Violette recorded at the American Music Center. I really liked him and his music, and especially that he popped bubblegum throughout.

Randall Woolf recorded at the American Music Center. Considering his music, we expected an intense and frightening person, and were happy with his genial way.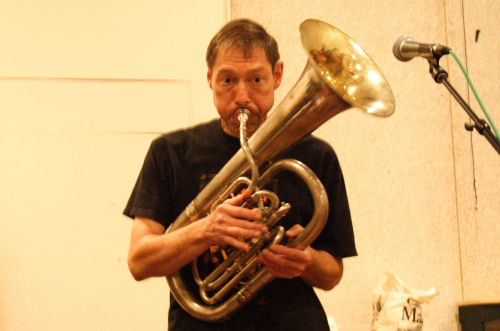 Peter Zummo recorded in Studio Z at WGDR. Peter is intense, very dry, and totally intolerant of shoddiness in music..