May 21, 2008
Seventeen more K&D guests today. There were so many whose pictures I didn't take; it is such a thrill to go back through the photos are recall the experience of speaking with them ... in the oddest of places: their apartments or homes, in our homes, in cafés and restaurants inside and out, in schools and universities, in private studios and public offices and, of course, in the radio studio itself. We interviewed three composers on the road -- literally in moving cars.
We worked as simply as possible because The Interview has a reputation for being intimidating. We also tried to make sense of our guests ahead of time. No, it didn't always work. Sometimes we were surprised in good ways, such as when Maria de Alvear spoke to us on condition that she make a magnificent feast for us -- while being interviewed. David del Tredici played one of his own atonal pieces instead of insisting on being the perennial New Romantic. Frederic Rzewski played a work in progress. Jon Appleton swore at us in Japanese. Joan La Barbara and Pamela Z both did vocal improvs on our station ID. Anton Lukoszevieze played in Larry Polansky's living room. Nancy Bloomer Deussen launched into a Gershwin medley. Barry Drogin showed up twice, once as his alter ego Baruch Skeer. We had to set up outside under cover from the pouring rain to record the fire organ with Nora and Antoinette Jacobson. Eliane Radigue shared tea with us in her Paris flat. Roddy Schrock, Tadashi Usami and Rorbert Duckworth were in three different places in the world as we worked live on the air and online. We broadcast an entire opera written by the students of Su Lian Tan, live from the performance studio. And of course there was AmsterDramm, a groundbreaking radio experience, and winning the ASCAP-Deems Taylor Award.
It wasn't all Great Moments of Radio. I fell over James Bohn's toy piano and collapsed in a heap (the piano was fine). We hardly held our own when listening to answers from the artificial intelligence composer Peter Beyls (after making our trilingual way through a school in Brussels to find him). We didn't ask questions Nic Collins liked, and he gave us a chilly interview. During his in-car interview, Martijn Padding was rear-ended by a motorcyclist. We left the electric piano foot pedal at home and had to make one from cardboard and wire for Anita Beckmann's performance. We could hardly hear in the café where we interviewed Sarah Peebles, and had to move. John Trubee's interview was strewn with radio-inappropriate words, making us actually edit the show -- something we almost never did. I looked ridiculous riding on the back of Dante Oei's bicycle in Amsterdam (but later learned to ride in town). Networking choked because the Starr Report arrived the same day we were doing AmsterDramm. And we asked a staggering number of embarrassing and just plain stupid questions over the course of ten years.
Followup experiences included Canary Burton helping us fire the annual fireworks show, George Lewis receiving the MacArthur Fellowship and Paul Moravec getting a Pulitzer, Richard Tolenaar moving the America, and the Los Angeles-based Mary Lou Newmark getting commissioned by the Montpelier Chamber Orchestra. Oh, and the Ought-One Festival of NonPop. We lost guests as the years passed, including Terry Winter Owens, Richard Zvonar, Stephen Smith, Gilles Yves Bonneau, Peter van Riper, Bea Phillips, Lucius Weathersby, Ernie Stires, and James Tenney.
The last seventeen photos tomorrow.
* * *

Matthew Fields came to K&D several times, and we never quite caught all his jokes. We tried, but we're just not joke type folks.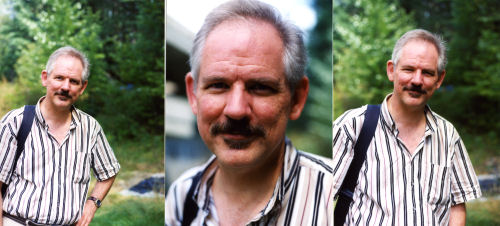 Kyle Gann, recorded at the WGDR studios, where we finally got to hear his music and his story.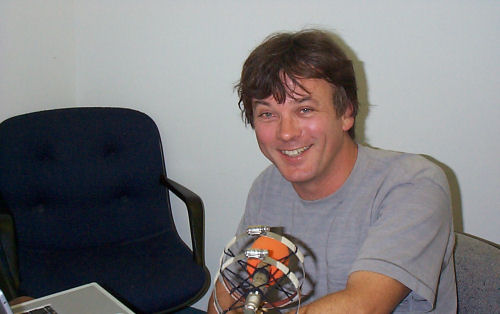 His music was mysterious and sometimes impenetrable, but Bruce Gremo was down-to-earth when we interviewed him at the American Music Center..

Steve Gryc at the WGDR studios, where we heard about his Yosemite recordings and prodded him to sing his alma mater's fight song.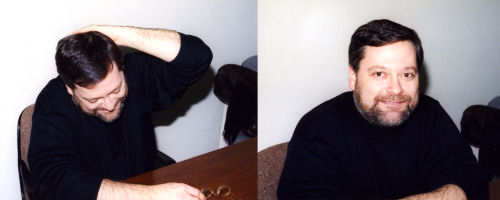 Daron Hagen, recorded at the American Music Center in New York, our second conversation with him. He's since become a Famous Composer -- but was still excited to hear K&D was returning.

Tom Hamilton recorded at his home in New York near the Hello Deli. Tom is not only a fine composer, but also a "golden ear" for mastering CDs ... and made K&D show #538 happen live at Lotus Music & Dance in Manhattan.

Rozalie Hirs was recorded at a café in Amsterdam. Rozalie's trek from New York to the Netherlands is chronicled in her interview upcoming on the new K&D: In the House!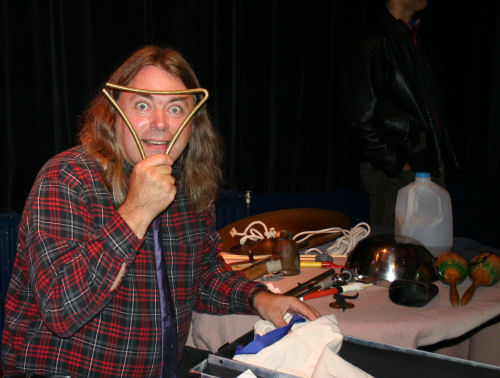 Brian Johnson is from Vermont, but it took him ten years to find time to come to the show, so here he is before our concert in Cologne.

Scott Johnson recorded at the American Music Center, here making his way through the obligatory show ID.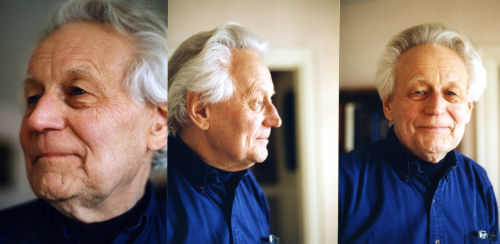 We wended our way through Toronto to find the home of Udo Kasemets, where we heard his non-stop views on life and music (no work for us!) and saw his unusual chess set.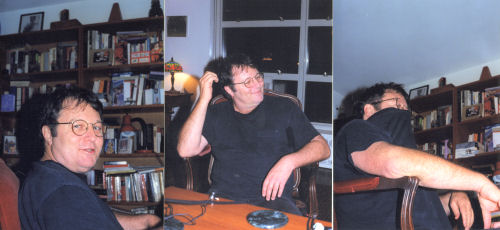 Oh, we gave Carson Kievman such a bad time about one of his symphonies, but he still gave us a great interview here at the former apartment of Mary Jane Leach in New York.

Kui Dong outside the WGDR studio after an interview where we discovered that someone half our age could be a far more accomplished (also read: successful and rich) composer than us.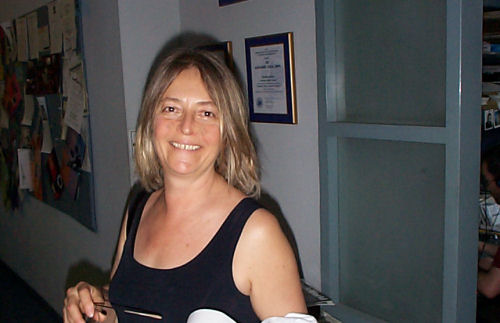 Joan La Barbara at the American Music Center, where we got to interview a composer whose work we had loved for so long.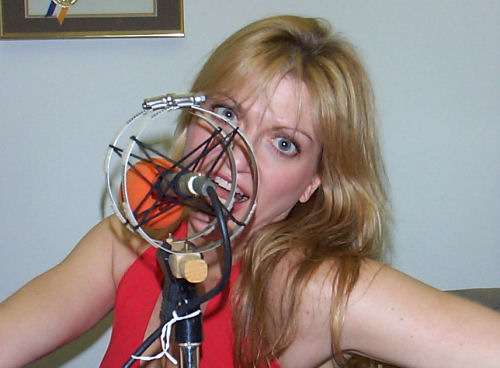 Margaret Lancaster at the American Music Center, giving us the virtuoso performer's side of new nonpop -- funny and hard-edged at once.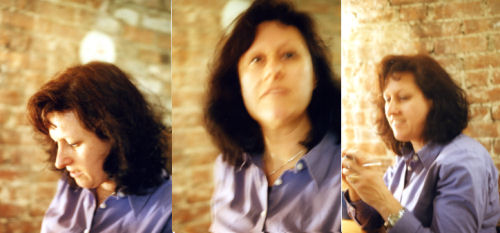 Elodie Lauten at her home in Manhattan, where we finally got to meet another composer long admired through recordings.

Mary Jane Leach at the WGDR studios. I thought she was my alter ego, because we had so much in common (including baseball and our age) and had moved oppositely while never crossing paths.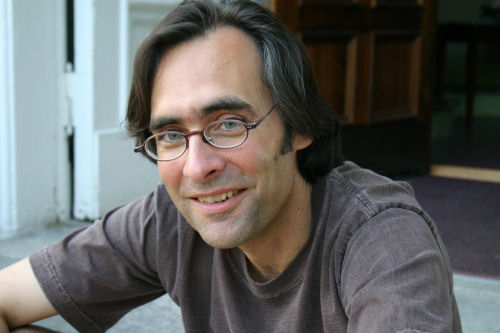 John Levin at the Vermont Composers Festival shortly before K&D shut up shop. John's low-key interviews were held at the WGDR studios, and he was a key organizer of Ought-One.