A 365-Day Project
"We Are All Mozart"
A project to create
new works and change
the perception of the
music of our time.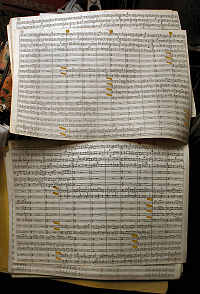 May 15, 2008
When I got the call on October 5th from The History Press to write Country Stores of Vermont: A History and Guide, the idea of a book was really a long way off. I had been intensely WAAMing and everything seemed possible. Why not more? That would be 2008, after all.
Putting together the proposal was straightforward. Having worked for the Vermont Alliance of Independent Country Stores for six years, I knew the territory, many of the stores, and some of their history. The book would be in three parts: a history, a focus on specific stores, and a tour guide. There were packs of good interviews already recorded for a video documentary a few years ago, and the tours could easily be based on my existing online guide. In went the proposal on November 7th, as promised, and a week later came back the acceptance and a contract. Well now. There would be negotiating to do after all -- over royalties, deadlines, rights, etc. The book would be a paperback about four-plus inches wide and six high, roughly 250 pages.
The History Press was accommodating; they clearly wanted the book and had checked into my writing résumé. With WAAM pressing, I dawdled. They called and emailed. On December 12th, the signed contract went back -- at which point I could see the end of WAAM and realized with a bit of a gulp that the book deadline was now just four months away -- during which time I had to transcribe interviews, organize material, and pluck out as much history as I could find. Not so bad, or so I thought.
(Can you hear "train wreck" in my subtext?)
Keep in mind that it was winter. It was snowing heavily -- in fact, the winter of 2007-08 was the snowiest on record for our town. The snowblower was due for a recall repair on January 4th, but it was too cold to fix it then. A dear friend had become sick, a heavy & wet cloud weighing on my mind. And on January 9th, a dense 22-page score came in for emergency engraving. (What's emergency engraving? It's when, as the composer put it, a New York group realizes too late that they can't read the handwritten music but have already scheduled rehearsals.) It became one-hundred percent engraving intensity until January 20th, during which time the snow blower repair guy failed to show up. And did I mention? The late composer Gilles Yves Bonneau had left a bequest to the Consortium of Vermont Composers, and it had been up to me over the past five years to deal with the paperwork. The final, complex paperwork came due on January 23rd. Video and audio editing was also coming in unbidden. Oh. Taxes, too. More snow. Lawyer meetings over the bequest.
In the interstices of daily demands, I had been working on book research. You know what is remarkable? Google Books. Many books impossible to find without long wintry trips to libraries hours away have been scanned and made publicly available. Others came from local bookstores, antiquarian book sites, historians, storekeepers, and even Amazon.com. By February 15th -- two months to deadline -- the bulk of my research material had come to hand and I had been identifying critical pieces. I used up six pads of Post-It Notes for bookmarks. I also discovered that almost no one ever cared about country or general stores, past or present. Information was snowflake thin, buried in a sentence here and there in books and handwritten letters.
I sent out a notice to our store membership. What did they know? Letters? Photos? History? Two answered. Fifty ignored the request. I conducted some phone interviews, but there were holes in the history and photographic record.
Time for a road trip. But suddenly on February 29th the hard drive on my leased server at pair Networks, the reliable web host that I have used for eleven years, crashed. People weren't getting email, and their websites were down. It was another day lost to consoling the thirty or so folks who use my server for their projects. And more snow had now fallen -- we had eight-foot snowbanks in front of the barn, and three feet of snow on the ground. And no snowblower.
On March 6th I took the road trip anyway, beginning a central-to-southern route to Taftsville, Barnard, Chester, Peru, West Arlington, Danville, and Pawlet. I couldn't find the store in Middletown Springs as I passed through, but I racked up nearly 300 miles of country driving. The photos were good, the stories better. I planned to go out again two days later, but we had an ice storm. Nobody was going anywhere. So I kept organizing and writing discontinuous paragraphs.
The roads were finally clear by March 11, and I trekked to Greensboro, East Burke, North Ferrisburgh, and Panton -- another 300 miles across Vermont to visit just four towns. As the crow flies (if they're not frozen), Greensboro is less than twenty miles from East Burke. But through ten miles over the mountain road through Stannard and South Wheelock, the car (new snow tires and all) could hardly keep a grip. Stannard is little more than a decaying village center, and South Wheelock hardly exists at all. No one would have found me if I slid over the snowbanks. I made it down to the pavement and ducked under the Interstate toward East Burke -- which had been flooded the night before from an ice jam on the Passumsic River. My interview with the store owner was off, and I sat with the town's librarian instead, learning that the local store kept a calendar of the Dionne Quintuplets on the wall each year as they grew up. What next? On the way toward Panton, I was happy not to have gone across West Street. A few hundred feet in, the paved road became an unending field of snow, with a ribbon of unplowed snowmobile trail heading westward.
March 14th was my birthday, but it was a work day. The repair guy declared the snow blower unfixable. And the next morning my dear friend Gene, whose health was worrying me, died. The store photographs were due in two days, and I was listless. The photos had been triaged down to 140, but my limit was 60 (you can see some on my Facebook pages). I got the best submitted by the morning of March 19th, then traveled into the dismal sleet and freezing rain to Hope Cemetery for Gene's brief service.
The text of the book was now a wreck. (It was still snowing, too.) The original three-part plan had been ditched at the editor's request, and I was reforming it as two-part history and guide. Work days were getting longer, but I took advantage of a New York premiere (of I lift my heavy heart, exquisitely performed at Roulette by Beth Griffith, Andrew Bolotowsky and Bern Nix) to take the train on April 4th. With comfy seats and power outlets, I worked the ten hours each way down and back. Yes, I know, it's only a six-hour drive. But with Amtrak I could work -- and with the cost of gas and tolls and parking, it was cheaper than driving. The performance was brilliant, as were the rewarding conversations with good friends Beth, John McGuire, Noah Creshevsky, David Sacks, Mary Jane Leach, Rob Voisey and Anne Cammon. There is a kind of renewal in visiting the city.
The holes in the book were beginning to shrink, and I checked my contract and got a scare. The book was reaching well over 40,000 words and the contract limit was 30,000. Time to renegotiate. The compromise effected was 35,000 words (and a day added to the scheduled deadline), meaning there was yet more triage to do. With the heap of reference books, notes and transcriptions surrounding me, I realized that less than ten percent of what I had hoped would make it into the final draft. It was discouraging to be creating such a dismal motley of a book.
Sometime between Phil Kline's exciting April 12th performance at FlynnSpace in Burlington and the family grandchildren birthday party the next evening, the energy returned. The book almost finished itself, and on April 15th my final draft -- and the taxes -- were sent in.
Tomorrow: It ain't over 'til it's over -- or, how a draft isn't just a draft..
* * *
Gotcher 3D glasses? Good. Here is our snow at the peak -- along with our two pickup trucks. Straight in front is one, to the right is the other.

March 2nd: With no snow blower and a bad back, it was like using a teaspoon to clear the path to the vehicles.

March 2nd: How Gesualdo feels about snow. Nuff said.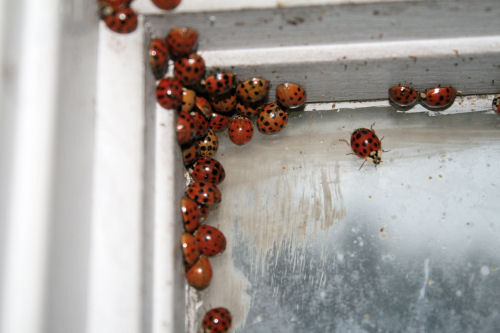 March 8th: Inside, the ladybirds were coming out. A few years ago they were an inch deep; here they cluster around the window awaiting spring. Only a few hundred showed up in the bedroom this year.