A 365-Day Project
"We Are All Mozart"
A project to create
new works and change
the perception of the
music of our time.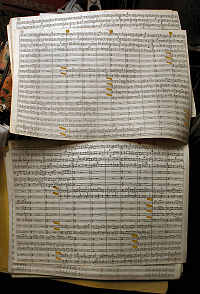 January 25, 2008
Motivation and memory. I'm thinking about that because the "We Are All Mozart" project drew one hundred commissions -- yet as of today, there are twenty-nine with their commission fees outstanding, even though the pieces have been delivered. One is understandable, the commissioner withdrawing the request due to a change in personal circumstances. I wrote it anyway. Another simply disappeared without evidence of ever having existed -- email and phone vanished -- but a different performer stepped up and paid the fee and premiered the music. Some seem simply to have forgotten, and that puts me in my least-favorite spot: billing. I'm a terrible capitalist from that perspective. Negotiate, yes. Deliver, yes. Bill, well..., not so much.
Some might find this boring, but to me it was an integral part of the project: Don't just compose from the belly, but compose by request and by specification and by fee. You've seen it, and if not, here is how it worked. If every day of the calendar had been filled, then it would have been a living wage and perhaps even a good wage. Instead, the calendar filled too slowly -- even so, by dollar-per-measure standards, the project should have generated $17,053, more than the total of all my previous commissions, which in Vermont are typically small. Instead, $10,865 has been paid, with more than $6,000 outstanding.
The motivation to commission -- an excellent, personal piece for a low price -- is understandable. But when it comes time to pay, the smallness seems insignificant. $50 or $100 slips through the cracks of dinners that cost more, or monthly electric bills for an evanescent service that dwarfs the commission fee. From this side, though, those pittancy dollars add up ... to six grand.
During the project, it was unfortunate that I didn't keep a tally of hours. But I do know that on the day a piece was due, generally it took from morning rise to night's (or morning's) late sleep to finish a composition, about eighteen hours. Some took more than a day. Discounting the off-days -- that is, the ones where the piece was actually being imagined into being -- that's some two thousand hours. If all the cash comes in, then that's $8.52 per hour, actually eight-four cents above Vermont's minimum wage ... which, for me as a composer, would be a first. Not so bad. If everybody pays.
* * *
Once in a while there's a piece that is magical in its simplicity. Last night David Gunn and I drove to Hanover, New Hampshire, to hear a concert with Nathan Davis, Doug Perkins, Larry Polansky, and crew for an ongoing gallery series. Two nifty pieces by Nate were on the program, one for thumb piano and computer processing, the other for six triangles and computer processing. Both were lovely, glistening sounds -- and although the second risked comparison with Alvin Lucier's 1988 Silver Streetcar for the Orchestra, its approach was different enough that it created a new sonic environment. The second half was Daniel Goode's Eine Kleine Gamelan Music. Dan wrote this perhaps thirty years ago, and it's nothing more than six melodic/rhythmic patterns with rhythmic underlay statement at each point of stasis at the end of the phrase. It looks like nothing. But scored for any instruments, it opens up a world of call and response and tonal interplay. If you see this on a program anywhere, run to hear it -- and look for an upcoming two-CD "ur" version (as Larry called it), with tracks contributed from around the world and mixed into a single two-hour performance.
* * *
The Catullus setting discussed yesterday had me wiped out, but there was still a December entry in the Lunar Cascade in Serial Time series due for Seth Gordon. For the end of the year and the beginning of another winter, I wanted to transform the aggression of November into the quiet and despondency of December while underpinning it with hope. Yes, all metaphorical, but shifting tonalities do that nicely. The majorish opening slips note by note into a not-quite-identical repetitive sequence, dropping the bass note by note down the instrument pulling the arpeggiated melody into self-dissonance. There is a score here and a not-too-bad demo here.
In Search of the Lightness of Horizon -- more searching -- is a combinatorial creation, composed for Elizabeth Reid. Beginning with arpeggios, it exchanges note for note and rhythm for rhythm to build a minimalist piece that transforms itself into a tonal dance, slowing and recommencing with a forceful tonality in a more regular-feeling triple pattern, devolving into the more square pattern of four, but accelerated enough to disguise the move from tuplet to non-tuplet. Again the tonal dance arrives, swinging harder, until it takes an almost Baroque turn, soon dropping into an allusion to both Gesualdo's Moro Lasso and Purcell's When I am Laid in Earth. Together with In Search of the Seven Blue Stars, the new Lightness (score and demo) became the third movement of a three-movement solo sonata, the second section yet to be written.
What is it about the cello duo? This was the fourth cello duo commission of the year, among them two for students and their teachers -- in this case, for Tristan and his father Bob Blais, commissioned by mom Lydia Busler-Blais. Writing music for young players is always tough, because the professional expectations that inform my music need to be recast. No, not written down, but written differently. Like Walking the Flat for accomplished accordionist but learning alto saxer Peter Hamlin or on a grander scale Ravel's Piano Concerto for the Left Hand, this new duo incorporates the musical sensitivity and experience with a circumscribed skill set. In this case, it was a defined upper range, an awareness of difficult string crossings, and a grasp of developing rhythmic sense. What to push, what to avoid? Make sure there are pillars of sound to give confidence to the less-experienced player; provide a sense of reiteration; create distinctly singing and energetic parts; push the counting just enough, and the range only occasionally, and with good reinforcement from dad and a sense of achievement when arriving there. The result is Counting Myself, with a score and demo.
If you've been following along again, you know that David Mahler is a composer and performer, and also has a marvelous sense of humor. He wanted a piece for piano four-hands, a combination I like as much for its choreography as its sound. Years ago I rescored a piece for piano five hands, the Lithuanian Liniment March, and seeing the third pianist at the bottom of the piano pounding out octaves was a wonderful sight -- as is my imagined performance of the WAAM composition Fortune in Her Eyes for Emily Doolittle and Samuel Vriezen, with arms stretching around each other. But how much of a circus act can I write this time? Especially for a piece that was to be precisely one minute long? With a tempo of half-note = 98.6, it was a food fight, with the middle D being fought over by four fingers playing non-simultaneous patterns, and the scales and arpeggios shooting atop each other in careening tuplets. Never mind the description -- look at this score and listen to this demo of It's Mine, I Tell You!.
There was actually a pause in the WAAM commissions for two days because Daniel Wolf had issued an invitation to contribute to "A Winter Album" -- a collection of pieces for winter by various composers created as part of his blog. Responding to the invitation, I made a piano piece and performance piece, with increasingly dense repetitive patterns starting with a hint of the "White Christmas" descending sixths, complemented by handfuls of jingle bells tossed into the piano. The score reads, "Assistant begins at the first repeat of measure 1, tossing a small number of jingle bells of various sizes onto the strings. The bells should not be so small as to fall or jam between the strings. The total number of bells increases with each repeat until the strings are covered." Here is that score to Glistening Fury, along with a jingle-bell-less demo
I can't let a good thing go. And due next was a commission from pianist Michael Arnowitt for premiere in Ghent a few months later. Michael is a brilliant musician and a brave man. Slowly going blind, Michael is to the point of having to memorize everything -- and for a new music performer, it is a herculean task. Chronicled in the film Beyond 88 Keys: The Music of Michael Arnowitt, he has fought hard to make sense of a performer's and political activist's world without sight. And so for the new piece, he wanted it to be memorizable. I knew he could memorize Ligeti Etudes, but those were repertoire pieces. Learning a new composition is a risky proposition, and Michael already knew that my music could be dicey because he had commissioned Rough Edges in 1988, Csárdás the next year, Emerald Canticles, Below in 1993, and Tirkíinistrá: 25 Landscape Preludes in 2002, as well as one of the parts of Sirens of the Collective Unconscious for three pianos in 2005. Having just come from two piano pieces, I had them in mind and felt like they should be extended and integrated into this new composition, which Michael requested have improvisation to glue together its sections. Voilà, it was Framing the Sum of Three: Additives for Piano, beginning with a minor harmonic series and a textural reminiscence of the opening of Csárdás, and following up with an additive clusters section, a thorough reworking of It's Mine, extended quotations from Glistening Fury (sans jingle bells), and a complementary ending. With improvisations, it's a twelve- to fifteen-minute monster -- but with its additive repetitions, perfect for memorization.
Holiday preparations were underway, and there was no avoiding them. It would be, um, politic to put off the next piece for Christopher Smith until Christmas Day, leaving seven days in 2007 for seven pieces, beginning with his bass trombone solo.
* * *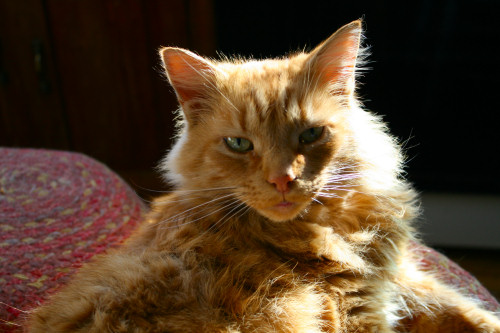 Orangeboom celebrates the holidays. (Cats are the default picture when nothing else comes to mind!)