A 365-Day Project
"We Are All Mozart"
A project to create
new works and change
the perception of the
music of our time.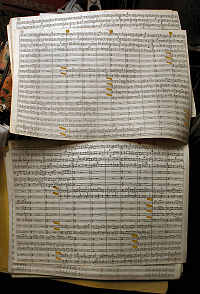 January 23, 2008
Today I feel like a digital janitor. There are disk drives everywhere with data spewing in and out. Really. It's the middle of consolidating files, backing up data onto DVD, filing, ordering, and making sure that relatively important stuff stays safe for a while. Most of it is music, but there are photos, so many photos. Last year these commentaries talked about my love of photography, and it's only grown. Yes, the chemistry and the subtleties of film are gone, but was I ever that good? No, really not. My utilitarian need for photography -- documentation, family events, pretty & ugly things -- dwarfs any art. But there's a terabyte of photos already. Imagine that. A storage size incomprehensible thirty years ago when the first microcomputers came into the house. A terabyte.
So it's cleanup day. Building stuff happens tomorrow -- a cabinet for CD and DVD archive storage. An island for the kitchen. Floor jacks. The beginnings of a new bathroom to replace our present wreckage.
For now, though, back to "We Are All Mozart" and the month of October being composed in November. Bill Sallak had rejected Aisle Five and I was at work on another vocal piece: a brief mantra (om tare tuttare ture svaha) to be set for soprano and two natural horns.
If nothing else, WAAM has been a year of learning. Though I knew about them, had heard them, had seen them, never had I written for natural horns. All musical instruments produce harmonics above their fundamental tone, but strings and woodwinds don't exploit them as basic tools, using string length and holes to be covered to change pitch. Brass is different, particularly natural brass -- brass instruments without keys, such as bugles and natural horns -- and can produce simple, tonal melodies such as various bugle calls (post, taps, reveille) which play only from among those harmonic notes. (Here is more about the harmonic series.) Natural horns are the deal, though, because good players can produce a large range of notes from among the upper harmonics, where the notes begin to cluster together. So to write She Who Saves for Michael Dixon in Oz, I had to learn more about the natural horn. The soprano line was a liquid, chant-like stream with increasing repetitions of short motives, hinting at mantra without being blatant. There is this score and either a demo or a performance (depending on when you read this, as it's to be performed sometime this month) here.
I realize that I forgot to include Lunar Cascade in Serial Time, Seth Gordon's commission, in its August incarnation. This is a meditative piece whose shape is drawn from an earlier piece this year -- Mountains of Spices. It's hidden ... not well hidden, but, well, different. There's this score, which you should look at very closely. The notes. Look closely. It's about the harvest. And there's also a demo. The reason I thought of the August version today is because something was off in my count as I looked down and saw that the November segment of Lunar Cascade was up next, and it was time to shift away from the dulcet sounds of late summer. For November, the score reads, "Prepare the guitar with twelve 'capos' (reverse frets) made of butcher's twine or other soft string. Tie each tightly, the first at the top above the first fret, the remaining eleven between the frets. The performer will also need a knife or blade and twelve pairs of mallets (very soft foam or yarn through firm plastic like Delrin). The first measure of the pair is performed (repeated if necessary), the string is cut during the second measure of the pair, and each successively harder mallet is used. The dynamics increase proportionately through all thirteen levels." By looking at the score, you can see how the music gets increasingly energetic and agitated.
Ed Epstein, musician and creative soul of many dimensions, came to me after receiving We're Running Out of Time and asked for another composition -- this time for tenor pan alone. If you have been following the progress of WAAM, you know my fondness for disguised variations, and Ed's piece -- Toccata and Tryptophan -- is no exception. It develops from the toccata-like introduction into a muscular set of variations on a familiar tune that shows up about two and a half minutes into the music. Score and demo of this quasi-Baroque set of variations.
Talk about learning new instruments: Samuel Vriezen, a composer and performer and head of the microtonal music institute in Amsterdam, asked if I might want to write for jew's harp. He had a concert in a few weeks. I couldn't imagine at first, and then he sent samples. They were beautiful harps, and my answer was 'yes!'. The jew's harp is little more than a tongue of metal held fast by a kithara-shaped frame that can be gripped by the teeth. The vibrating tongue creates a fundamental, and the entirety of the melody is created by varying the shape of the mouth, throat and nasal cavity to reinforce a given harmonic -- yes, harmonics again. The ear soon forgets that the fundamental tone exists (the same kind of blanking that shifts color perception to match colored glasses, or adjusts apparent motion backward after staring at a moving freight train), and only the melody can be heard. The piece itself was created as a minimalist chant, with irregular rhythmic modules. Samuel premiered it on December 16 at the Goethe Institute in Amsterdam, but alas the concert wasn't recorded, so all you get is this score and this demo of Cithara-Cantus Cantoris ("Singer's Harp Song") created from bad guitar samples. But you can imagine.
Over the next few days, something turned on. Perhaps it was the imminence of the project's end, or perhaps my creative abilities finally fully engaged, or both. Events and Horizons, commissioned by ASCAP and its concert division director Fran Richard, took shape by jumping out of At the Edge of Forever, written for David Goodman in June. Music for clarinet and string quartet took shape, and there's almost nothing that I can say about it. It's circular and linear, and leaps into the next day's composition for the same orchestration, UpReach Over DownSlide, written for old friend Richard Fredette. There is a score to Events and Horizons as well as one for UpReach Over DownSlide, and I suggest you grab them as well as that for At the Edge of Forever and listen to the complete three movements in order about twenty-two minutes (one, two, three). The Goodman ensemble broke up, and the latter two commissions were speculative -- so if you, my dear reader, can find an ensemble of clarinet and string quartet looking for a rush, please send them my way.
If you've been following the original schedule, you know the compositions are now hopelessly mixed up. Events was four days late, and UpReach nearly two months behind. December had arrived, and a full twenty compositions were waiting -- as well as family holidays. Fortunately, the first piece of the month had a little twist that helped itself be written. Peter Hamlin, yet another composer -- do we all support each other? -- asked for a study for alto sax. Peter is a virtuoso on accordion, but he came late to the sax, and wanted to strengthen his low notes. He asked for a composition that was 'real music' but which was also a study in approaching the alto sax's lowest notes in every way possible. And so Walking the Flat came to be (score and demo). It's fun and it's good listening. mysterious and energetic, a set of variations on direction rather than on melody.
The energy machine was in gear, for sure. The dream of writing a piece a day was almost coming to fruition in December, as it had in January. Steve Klimowski, director of the Vermont Contemporary Music Ensemble is a musician -- and by that I mean a guy who loves to play the notes. He does concept, sure, but he loves notes, lots of 'em. And so after the premiere of New Granite, he asked if I could write him and his bassoon colleague Rachael Elliott a duet -- one with stuff, you know, notes. After Peter Hamlin's piece, it was a perfect request. Two parts, I began imagining: Something pretty, round, melodic and resonant followed by something hot and challenging. And so O Vox Pop arose, a simple duet of the classic melodic variety. No intellectual heft here, at least no more than I can't avoid stuffing into a composition. Grab the score and listen along with the demo.
Carson Cooman, composer and performer, has been mentioned here many times before. He's prolific, towering over my own output with his 750 compositions by age twenty-five, and also generous and a real intellectual spark. Carson asked for the hardest thirty-second piano piece I could imagine into existence that was still playable. And so I wrote a mad Nancarrow-like blues with scales, chords, and riffs that, a tempo would take precisely thirty seconds. Pluck this score of Thirteen Triple X, grab this demo, and follow along with your fingers!
Recently on one of the music discussion sites, the topic of composing into software came up. For the WAAM project, I had wondered myself how I could keep up with composing as well as producing a nicely engraved result. Were I not facile in the software, I would have been up to my knees in manuscript paper. Instead, this is how I found myself working: Conceptualize the idea. Imagine the music into existence. Sketch down the key features, particularly where I knew the software would resist easy results. Sketch in hand, pummel the software into submission. Some of it was very difficult detail work, notably the Lunar Cascade series (1 2 3 4 5 6 7 8 9 10 11 12) and some of the extended vocal pieces such as I lift my heavy heart and Return to Nineveh. In fact, the latter two were done first in pencil, simply because Finale is incapable of handling graphical notation natively, and composing into it would have been unacceptably stressful. Music scoring software isn't easyto begin with because the musical vocabulary is large and its presentation is two-dimensional; music moves through time and space, but not proportionate to its 'paper' existence. Its dimenstion of volume (amplitude) is both described and shown with flattened vectors. And almost everything beyond notation more than a century old has to be kludged. No more to be said; just re-read my past commentary.
That's all for today. I have to go back to being a janitor. But tomorrow there will be a long bit about a Catullus song, probably the most difficult song to cast out.
* * *

There's the old story about being killed with an icicle and the murder weapon never being found because it's melted away. Here's the neighbor's house earlier this month after a few hours of afternoon sun. Stay inside!