A 365-Day Project
"We Are All Mozart"
A project to create
new works and change
the perception of the
music of our time.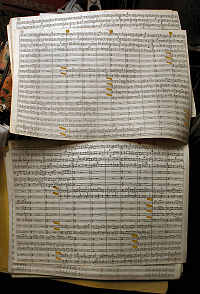 September 2, 2007
March 13. That's the last entry, with its picture of rotting snow, the day before my fifty-eighth birthday. Now I'm back here as the summer closes -- the snow long gone but temperatures dipping already to forty degrees last night, hinting of snows to come -- but I am time-starved. Some folks have asked me to update this blog just to make sure it doesn't look like the WAAM project has been abandoned. It certainly hasn't. But here's the problem: In March, I was still hoping to fill most of the year with compositions, but the story never "took" in the music media. Critics and correspondents could really have put this project to the test by talking about it. They didn't. Whether through skepticism or fear that their precious artform would be sullied, they said hardly a word. So at this point in September, I have received not 365 but rather eighty-eight commissions. Oh, yes, a huge number by any compositional standard, but not a true test. (And I'd love to receive twelve more to make a true Year of 100. Spread the word.)
Because the prices were low and I haven't filled the year with compositions, I have had to take on the usual outside work in order to pay the bills. That work pushed aside compositions, much to my regret. In fact, today sees me six pieces behind. Let me catch up the calendar for you, at least. In the coming days and weeks, I'll review the compositions that have been written, and recount some extraordinary experiences earlier this year at Binaural Media in Nodar, Portugal.
On March 17, we had a big snow -- nearly 15 inches. Beautiful.
The WAAM compositions finished in March were Lunar Cascade in Serial Time: March (tenor guitar, Michael Gordon); Full House Reset (piano trio, Trio Tulsa -- to be premiered in October); Hermit of the Furies (solo cello, Robert Blais); Fortune in Her Eyes (piano duo, Emily Doolittle to play with Samuel Vriezen); For the Beauty of the Earth (solo violin, Wen Li -- who disappeared and so the premiere will be by T. L. Read on September 16.).
By March 30, the temperature had reached 50 degrees. Then another foot of snow fell on April 5.
We left for Binaural Media in Nodar on April 8 and flew onward to Utrecht on April 29, returning home on May 7. During the stay, my wife Stevie Balch and I recorded more than sixty folk songs and created a video for our project residency, originally to be on birth song. More on that later, but the video is here. New compositions were also written, including Three Songs for Manuela (electronic) and a string quartet set of brief variations, Pão: The Bread Song, part of which was used for the video soundtrack.
On returning to Vermont (to a safe house but a leaking roof), it was back into the thick of the Vermont Alliance of Independent Country Stores and their annual meeting, and taking the rest of May to compose the WAAM pieces Future Remembrance (electronic, Robert Voisey); A Village on the Wind (electronic, Dartmouth College); Lunar Cascade in Serial Time: April and ...May (Seth Gordon); The Itch is Internal (cello duo, Robert Bolyard); Détente (organ, Carson Cooman); We're Running Out of Time (tenor pan and cello, Ed Epstein, to be premiered next month); An Fold-In Round (fourteen-part round, Larry Polansky); À Bout de Souffle (three oboes, Pam DeSimone); and Romance: Mondo-Mando (mandocello, Larry Polansky).
I was also able to dive into June with new pieces -- a camp song for our family year event, Vermont Chess Camp! (five-part round); The Anvil of Clytemnestra (voice, anvil and piano, Barbara Touburg); Sequenza Nova (horn and piano overtones, Lydia Busler-Blais) -- when I was stopped dead by consulting on a new project in computer audio (oh, and one of those non-disclosure agreements prevails, so I can't even talk to you about it). So the time began to be interrupted, though I still fit in Nine Lessons from "Flatland" (rounds for three and four voices, Larry Polansky); Six Senses of Twilight (organ and electronics, Carson Cooman); Lunar Cascade in Serial Time: June (Seth Gordon); and At the Edge of Forever (clarinet and string quartet, David Goodman).
Meetings started to fill July, but the orchestral piece Fanfare:Heat (Vermont Youth Orchestra) was finished on the first day. A few days later came Anticipation & Stormtide (accordion, Nicholas Maggio), but then along with the computer audio consulting came an emergency score engraving for a composer whose name you'd know in an instant if I mentioned it, fifty pages for chamber orchestra in two versions, plus parts. On July 12, the first half of the pencil score came in. The whole deal had to be ready to accompany the composer to the Czech Republic on August 19. So much for WAAM in July.
The week-long Vermont Chess Camp intervened at the end of the month as well, and it wasn't until August 4 that another WAAMer was written: The Nine Rabbits of Valladolid for Nati Plasencia and her student Amarilis, a cello duo, followed by A Partial Summer, another cello duo (Paul and Melissa Perley). Since a percussion concert had been previously planned for which I was conducting, Drumbing was also written for the event under my pseudonym Brady Kynans. (My other pseudonyms can be found in my résumé.) Drumbing went very well, as did music by Michael Manion, Michael Gordon, Brian Johnson, David Gunn, Dov Michael Schiller, and Larry Spivak. (Most of them are racked up on YouTube ... have a look & listen.)
The emergency score got set in time for the composer's departure on August 19, and yes, he was here making corrections that morning. Afterwards, I was able to begin catching up a little bit on WAAM. Two versions of a violin solo commission by T. L. Read were completed (Meta-Dream Once and Meta-Dream Twice), followed by The Imagined Moons of Autumn (piano and flute, Doug McIlroy aka "John Speede", a present for his wife and daughter), and just yesterday, Morning in Nodar (solo double bass, Thomas Peters, to be premiered in Los Angeles on September 29).
Since March, there have been a few WAAM premieres as well: Mountains of Spices by the Eleva Ensemble in Tulsa; Soundings and Détente by Carson Cooman in Ottawa; Future Remembrance as part of 60x60 in Munich; and A Village on the Wind at Bregman Studios in Hanover. And there were two other odd (and I mean that) premieres: the 1967 (no typo) Étude for piano in Greenville, South Carolina; and the 1973 Three-Part Invention in Pomona. Who can tell what will happen when one's music is free for the download?
And so I'm late. Seth Gordon is waiting for both the July and August chapters of Lunar Cascade in Serial Time. Carson Cooman has another chorale prelude on the docket, this one based on an early American tune. Patricia Goodson has another piano composition waiting to be written down. Christopher Smith has two kids waiting for a duo for flute and piano -- and I'm already into September. A harpsichord piece is coming up on the 5th. Certainly it hasn't all been work and worry; Nodar and Utrecht were wonderful, and we have lush gardens, and completed our west steps and "human paddock" with picnic table and grass. The grapes we planted last year are full and round and turning pink. Stevie's longtime doctor associate retired, and the electronics shop where I worked doing repairs for fifteen years closed. We've had guests and good friends and the food we love to cook. Life is changing. But also in the meantime, there are new pieces that folks have sent me which will suck me all-too-pleasantly away from hard work, including my dear friend Noah Creshevsky's new CD To Know and Not to Know on Tzadik (and you can read a profile of Noah on the NewMusicBox website).
More about each composition will be coming in the blog, the journal from Nodar, and many thoughts left hanging last year, plus the usual clot of photographs. Give me a few days or weeks.

I had a panicked reaction when I found these growing in my oldest (20 years) jade plant. After quite a web hunt, I found this calming explanantion of the Leucocoprinus birnbaumii.