A 365-Day Project
"We Are All Mozart"
A project to create
new works and change
the perception of the
music of our time.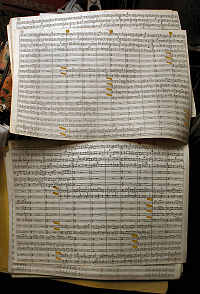 March 4, 2007
It's not been quiet, despite the silence here. We had another foot of snow, making it white and sparkling, but also making it heavy. In a perfect storm of microcosmic events, the new snow caused the barn roof to release, at last, its entire snow load for the winter. The plows arrived just in time to jam the road snow up against the roof snow, and for more than an hour the ponies waited patiently for me to snowchew (it waren't blowin' this time) through the crystalline entity.
Two New Tunes
Text has been, as I can't say enough, a problem. I'd love to set Eliot or Cummings or Prévert or Ginsburg -- and I have, in my early years before I knew about the sharp-toothed aggressiveness of writer's estates and publishers. But you'll never see these compositions, because now that I am a more visible composer, they are Forbidden. When I was completely unknown, my use of these authors escaped notice. Unfortunately, no longer. Anything past 1923 is off-limits to me for now, and will come off the presses in a dozen years or so, into my dotage and decay.
For a new composition for percussionist Dov Schiller (on vibraphone), his vocalist wife Lynda, and clarinettist David Goodman, the text was therefore elusive. So I turned to text-meister David Gunn and asked him to write something slightly Breton-esque for me. His response instead was to grab some Friedrich Schiller -- who's dead enough -- and Andrébretonize it for me. His results (taken from Die Räuber):
Quae medicamenta non sanant, ferrum sanat; quae ferrum non sanat, ignis sanat.
Schön wie Engel, voll Walhallas Wonne
Und wann gehst du wieder?
Nimm erst das zur Aussteuer hin.
Ziehe heim in Frieden.
Ich bin ein Weib, aber ein rasendes Weib.
Karl lebt noch?
Es wird Alles zu Grund gehn.
Ja, Freunde! diese Welt ist so schön.
Schon wieder ein Kläger gegen die Gottheit!
Nur weiter.
Sachte, sachte! unser Hauptmann wird feuerroth.
Geh voran und melde mich.
Tochter! Tochter! Ein Bräutigam?
Dem Mann kann geholfen werden.

This poetry, despite its decontextualization, could be read through and taken seriously in a "ceci n'est pas une pipe" kind of way. The Latin text was rendered on a single note against a filgree of vibraphone and clarinet; in a moment parallel to but gentler than the opening of the Rite, the motion stops and falls into a simple almost chordal setting for the entrance of the German, expanding outward, hinting at the opening without quoting it, and settling into (briefly) a rhythmically stable vibraphone accompaniment to voice and clarinet in linear stasis. The vibe pattern inverts and reverts, metrically slows and sets into an ostinato in seven. Again the music clarifies and simplifies, leaves the seven, and lifts earlier fragments into a brief ending-sans-coda.
Throughout the goal was to underscore the instrumental strengths of each line -- the liquid vibraphone, the linear & forthright clarinet, and the three rich registers of the voice. The Midi rendering of Diese Welt ist so Schön is not bad, with oboe substituting for voice; there is score for the playing as well.
An entire shift of mind came with the next assignment: a one-minute fanfare for the Green Mountain Youth Symphony for its brass players: two trumpets, two trombones, tuba and timpani -- and featuring the tuba. One minute. Rather than give the tuba a solo in that short time, why not make its participation key to the functioning of the fanfare? And so it drives it forward, always heard in the interstices. Now kids have to deal with ranges, and commissioner Bob Blais told me to go easy on the 'bones. I gave them just enough to stay interested and challenge their slide position skills, and handed the trumpets some triple-tonguing over an otherwise moderately practice-demanding line. And finally the timpanist gets to use the tuning pedal after the piece is well underway -- again, just enough of a challenge. Everybody gets some lip-rest, and finally, putting it together calls for them all to count.
Listen along to a Midi demo that's pretty good, and read the score to Tuba Marcato.
Up next: a piece for ukulele, due Tuesday. Really. And for a darn good player of uke and guitar, composer Larry Polansky.

Snow in 3-D. This is the view from our front door; the barn is across the street, and the car & truck at the end of the left side of the snowpath wishbone. Get your 3-D glasses (red lens on the left) and look at the screen from about a foot away. Or grab this large one, reduce it in your browser (Firefox renders it automatically to screen size by clicking on it), and enjoy! (It looks best if you have a robust, bright screen.)