A 365-Day Project
"We Are All Mozart"
A project to create
new works and change
the perception of the
music of our time.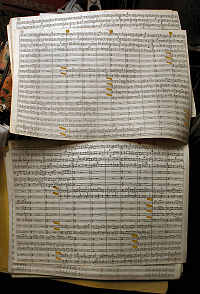 February 8, 2007
A few words can lead to big trouble. I'm talking music here, choral music. When I received a "We Are All Mozart" commission from Johnson State College an hour's drive north in Vermont, I thought, "Oh, cool, something to stretch out with...". But little did I know that attached to the commission was the text: "Om ma ni pe me hun." That was all of it. Not only was it laden with Nineteen Sixties oh-wow honeypottishness, it was, well, not enough words. Never mind that it has an enormous history and has existed for this side of forever. I'm just so doggone American. What do I do with this?
Now harmony's not my greatest interest. In fact, when it comes to harmony, I'm not the sharpest knife in the drawer. Rather than a musical element unto itself, harmony for me has always been a linear coincidence. Perhaps pop and its thump-thump (or as Zappa put it, "boom-bap, boom-boom bap") got tiring early in my compositional life; maybe discovering Ockeghem was a Bad Thing for a young composer. Whatever the reason, my chord allergy is a debilitating one for writing music throngs of people will want to hear.
Okay, I'm kidding. Or not. The music was commissioned, and they dealt me a hand with just six cards. Om ma ni pe me hun. Make something of it, and we better like it. The director of the ensemble is singer and conductor Lisa Jablow, who also played the role of Erzsébet in the Discovery Channel version of a scene from my eponymous opera. No, she's not kidding. Om ma ni pe me hun. What to do?
Harmony enters the discussion because the chanting Tibetan monks and the Tuvan throat singers and the Harmonic Choir are creating self-contained harmony. Cliché also enters the discussion not because of harmony but because in the past forty years, we've about used up the exploitation of these sounds. They're sound bytes for some free-floating mashup of religion, political oppression, the mysterious East, kewl sounds, interest-starved pop, the occasional Lexus, and National Geographic Explorer. Help! Om ma ni pe me bloody hun!
The individual syllables and their meanings -- extensive and exasperating -- could be picture-painted. Nah. Cheap. Time for structure. Moving from complexity to simplicity is an insubstantial philosophical reflection on the mantra, yet a musically workable formula. Blending the Western idiom (four-part chorus, equal temperament, harmony, counterpoint, plainchant, etc.) can extend the mantra metaphor into a concertized chunk of choral music without religious or ceremonial significance, while incorporating the spatial relationships in a typical four-part singing setup can extend the mantra metaphor into the soundstage. Good so far.
The primary and primal question: how to begin? First, read Daniel Wolf's commentary from a few weeks ago, and take note that Daniel recognizes the struggle with making choices between wrenching decisions and simple ones. He writes, "If we stand back a bit, and allow that a work can be an instance of a genre, without necessarily being a culmination, and we allow for cul de sacs, deadends, and failures, as well as successes, we'll find ourselves on a more productive path." A path, not a product, not an event, and an instance of a genre. Would that I could think so brilliantly.
And so (with apologies for the mental elipses), a series of cul de sacs, deadends and failures brought the piece to: harmony. It became an obsession to select six chords, each of which would represent a syllable without cheaply picture-painting it, and each of which would lead to the next. The bulk of the composition involved selecting those six chords, from the (not necessarily a chord) open fifths of "om" through the subsequent four complex chords for "ma ni pe me" to the resolution on "hun". The resolution would stand alone.
The music was getting ahead of me, laying out its structure and filaments of sound before I had the chords. It was a mess. Early drafts were spilling out and getting trashed. At last I had to resort to paper again, selecting each note and voicing for vertical coloristic purity. Oh, yeah, it sounds impressive -- "coloristic purity" -- but really it was a search for what didn't suck. Choral music so sucks.
The harmony made sense and sounded etherial without sounding like a cheap imitation of Himalayan hijinx, and the ten-minute, static composition unspooled itself onto paper, and when that couldn't keep up, onto the screen. Voices intertwined, handed off dissonances, made demure consonances, worked the soundstage, and settled on that final "hun" with a kind of suspension into eternity. And when it was done, I still even liked it. To see if you like it, grab a score or decide if your ears can stand the demo version.
* * *
As of 1:30 this afternoon, there's a new grandkid in the family, Lila's third child and first little girl. Ice cream sundaes all around. And tomorrow's organ prelude may be delayed just a wee tad.

Coals inside the woodstove. It's chilly tonight, but not bone-chilling. Perfect day for a baby.