A 365-Day Project
"We Are All Mozart"
A project to create
new works and change
the perception of the
music of our time.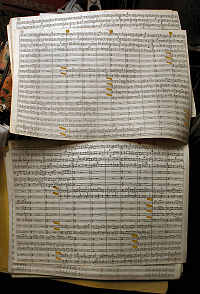 January 26, 2007
Our first loves stay with us for a lifetime. Mine was the bass clarinet. (What did you think I was going to say?) So when the opportunity arose through this project to write for bass clarinet, it was a peculiar thrill. Through the years, I'd written for bass clarinet -- it was one of my first compositions, the title and date lost sometime in 1964 or 1965. It featured prominently in the early orchestra and wind ensemble creations, and appeared in Grand Mirliton with a French horn; as a pair of lead bass clarinets in Into the Morning Rain along with violin, cello and percussion; in the luscious quartet of flute, clarinet, bass clarinet and piano LowBirds; and most recently with flute and electronics in Elusive Parallels (in Time). (You can listen to performances of the last three in the catalog, and download the scores.)
Paired with viola, the new piece for the Darkwood Consort would inevitably become a glistening pool of lushness -- unless that fate could be avoided by clean writing. The blank paper (yes, I'm writing on paper, at least for the opening ideas) stared back for quite a while before an unmetered call-and-response developed. Out of the exchange came an expressive duet, leading into a very classic and tonal dance, broken throughout by measures and phrases of different lengths. The material from the outset grew into an intertwined exchange, an outbreathing of phrases, and a return to the opening material. It was in the best of meanings a musical conversation.
Staring at the paper, some of you might have thought. I am the guy who writes everything down complete, am I not? No sketches or drafts? Well, now. This project has forced a reconsideration. There's no time to fuss with a complete mental creation. I have to dig in, get started. Be productive. Ah, I have cursed moi-même! If the right compositional path isn't chosen, the result is a very long night, as with the composition for Beth Griffith (I lift my heavy heart, voice, flute and guitar) where an unfortunate choice of text lost the entire morning. Perhaps luck has been with me, or perhaps my meatware pre-compositional subroutines have been working all along, because the pieces have taken shape, offered a path, and laid themselves out almost as fast as my pen or typing hand could keep up. The Darkwood piece In het Donkere Bos did that for me as if it were self-animated. Trips from scoring paper to computer screen oscillated faster and faster until the pad was abandoned and the music was being composed to the screen.
Some musicologists are already lamenting the loss of the hand-drawn manuscript. It does have a flavor, something romantic and personal in the sweep of the hand on vellum, but does it convey more than a computer file? That depends on the composer, the software, and how kindly future technological history treats the tools we use. Should my computer files be readable in times ahead and should some student musicologists be rummaging about for an unmined minor composer free for the PhDing, they'll find running drafts of my work. It isn't for history that these drafts are kept, but for protection against a combination of stupidity (the delete key is far easier to manipulate than the pencil eraser or pen crosshatch) and failure (backup, backup, backup, a rule learned well and re-learned in December when my computer came crashing down in a famished rampage through hard drive data). So, for example, one will find forty-five drafts of Donkere Bos in progress, each saved at a point of major change, correction, or development. The writing is all there in the order of entry. It may not have the musty rush of parchment, but it reveals process -- and embarrassment.
Here is the score to In het Donkere Bos and here is a Midi demo.
* * *
One of the oddest commissions was by Patrick and Chris May for a four-channel Midi piece. They didn't want a score, they didn't want an audio file -- just Midi, with bass, drums, blown bottle and shanai. They gave me some uptempo Midi tunes they worked up as an idea. It wasn't easy; their demos floated somewhere in the very grey DMZ between pop and nonpop. So I went through the barbed-wire tunnel and decided to do a mogrel techno-jazz-latin hybrid, like Coleman meets Pacheco at the Chill-Out Club (wha'ever).
At first working directly in Midi seemed interesting, and then not; within minutes, it went to score, and to whip up the jitteriness, time signatures of 13, 11, 7 and 5 were combined. Bass got 13, drums 11, shanai 7 and flute 5. Within the top two I combined the faux-jazz/faux-latin combinations, riffing on each others' themes in counterpoint, and letting the bass carry them into bitonality. The drums did their best techno 11/8, and the result was called Pivot: The House of Cloves. The imagery mixed up in that title is a musicologist's nightmare.
Here is the score to Pivot: The House of Cloves (even though they didn't want one) and here is an audio workup of the Midi.
* * *
Solo compositions are sandtraps. You keep swatting at a ball that goes nowhere while your eyes grow dry and gritty and a deep sense of déjà vu overwhelms your spirit.
So it was with Monique Buzzarté's commission for trombone solo, where a sandtrap tendency to write cleverly "notey" music almost ruined the concept of performer and instrument. You have to understand about trombonists. Their instruments are sexual, impossible to play smoothly (legato playing is essentially accomplished fakery, because the slide slides -- it doesn't snap from note to note), hard to reach their full length, full of spit within minutes, and doing to lips what collagen only dreams of -- not always a pretty sight (I was once married to a trombonist).
But trombonists can also be daring, experimenting with multiphonics and arm-aching movements. Monique is such an instrumentalist, so a piece that progresses from manic to exhausted seemed inevitable. After an opening four multiphonics (where the performer sings through the instrument while playing the note, producing a tantric effect) and a kind of horn call, the music launches into a frenetic solo of sonic spits and shears, coming to rest on another wide-open multiphonic. An interchange between trombone playing and open-mouthed humming sets up a tamer and more fluid solo with hesitations and pauses. A sighing slide on the instrument while a melody is hummed through it (producing a fluttering, shifting multiphonic) continues into another exchange between increasingly becalmed singing voice and the trombone as recitativist. It comes to rest on a deep trombone sigh.
The web has not ony made the WAAM project possible, but helped me produce more performer-centric music. Monique's website contains examples of what she plays and the character of her technique -- but there were still elements that I didn't anticipate, the reasons music gets revised. The multiphonics of this new trombone piece, Moving to Lullaby, required more vocal power than her voice in its very low register could expel (the lowest typical note for an alto), and a few of the physical gymnastics asked for the trombone's seventh position (slide fully extended) for which she would need an extension grip. She would make the adjustments. And going back to In het Donkere Bos, a similar practical situation demanded an adjustment: One set of double stops was just slightly beyond the reach of the violist's fingers. Over the years, editions of music incorporate practical adjustments to the scores, but new pieces can be filled with ideal-world confrontations with the real one.
Here is the score for Moving to Lullaby and here is a Midi demo with no multiphonics (just a parallel voice) and no proper breaths or grunts.
* * *
Composer as tradesperson is no more evident than when writing for amateur choir. Matthew Guerrieri had commissioned a piece on a text by Henry Vaughan; his Presbyterian Church choir in Sudbury, Massachussets, would sing it for Lent. Fortunately for the composition, I had directed an amateur choir that had become pretty good over a few years. When Matthew told me a part wasn't strong, I could imagine the circumstances and write for the singers in a musically supportive way. In other words, the singability of a piece depends on its vocal range, its interest, and its voice leading. The vocal range is easy. The interest and voice leading are not, because (as many an alto will tell you) Sunday-afternoon composers tend to think only about chords, creating a nifty tune for the sopranos and leaving the rest of the parts to clump along as harmonizers. Fun stuff to sing means everybody gets interesting parts with movement from note to note that makes muscular and grammatical sense, so to speak, but has enough challenging moments to make learning it worthwhile and gratifying.
Without some compositional cluefulness, pieces fail. But ultimately the compositional challenge wasn't technique or even a socio-musical sensitivity -- it was ideas, coherent and interesting and even shimmering ideas. Choir pieces are choir pieces. Unless you're, say, Thomas Tallis, which I'm assuredly not. The text itself was mysterious; Matthew asked me to set only the last stanza of this poem:
Come, come ! what do I here ?
Since he is gone
Each day is grown a dozen year
And each hour, one ;
Come, come !
Cut off the sum :
By these soil'd tears !
Which only Thou
Know'st to be true,
Days are my fears.

There's not a wind can stir,
Or beam pass by,
But straight I think, though far,
Thy hand is nigh.
Come, come !
Strike these lips dumb :
This restless breath,
That soils Thy name,
Will ne'er be tame
Until in death.

Perhaps some think a tomb
No house of store,
But a dark and seal'd up womb,
Which ne'er breeds more.
Come, come !
Such thoughts benumb :
But I would be
With him I weep
Abed, and sleep,
To wake in Thee.

Matthew gave me a very slight text variant, with no change of meaning. Forty words, the tail of a longer concept, which (because the word "Perhaps" seemed so musically awkward) I composed inside-out, beginning with "Such thoughts benumb". It came from unison to a still chord, like wine. Then backwards to the "Come, come!", done in imitative style, and mirrored with "But I would be / With him", also imitative but with the verbal accent moved from the spoken rhythm to an emphasis on the first word. So there was the middle, done. The opening became a peculiar chorale of unresolved dissonances, with the alto voice tolling the bell (reflecting "tombe") as if in the distance, by placing it on the weak beat and letting it sound through the phrase and word ends of the other parts. And from there, the cascade out of dissonances at the end became clear and simple, with no repetition of the final line.
This piece has received more explanation than others in the WAAM project so far because it represents the composer as servant of the commissioner, the performer, the environment and the text. On one hand it is the easiest because, like a sonnet, it is such a circumscribed artform. On the other hand, within such a small world, what can be revealed that has not been already explored and exposed?
Here is the score to Come, come! and here is a Midi demo -- without text, of course.
* * *
Today I'm working on a piano-vocalise (or cello) lullaby for Canary Burton, and tomorrow will come the report on that process as well as how the soprano sax piece Coarse Salt for Michael Straus came to be.

The workspace: table, cat, manuscript paper, pencils, remote, and pistachio halvah. The ecstasy of composition.