A 365-Day Project
"We Are All Mozart"
A project to create
new works and change
the perception of the
music of our time.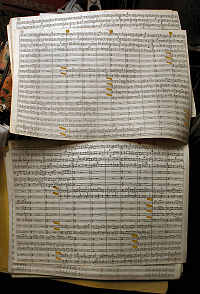 November 21, 2006
As my few and precious regular readers know, redundancy is one of the things I dislike most. Whether it's gratutious repetition of the sonata's exposition, the insistent recurrence of musical themes, the lazy re-use of vocabulary, and the restatement of concepts and arguments, I cringe. In my own words, the undiminishing echo of restatement is frustratingly unwilling to leave the room. And so these commentaries have been less frequent during the past few weeks. My limited horizon of thought and experience is close to being reached. But not entirely.
So tomorrow I'll begin a new series of commentaries, with these topics:
EULAs. End-user license agreements, and how they and other tethered programs are destructive to creativity and history.
Limitations. An expansion on the discussion of software and how its behavior infects our way of working, with examples.
Nonpop. You knew that wouldn't be left alone. The question to be posed is this one: If we let the classical folks have their classical, what do we call the rest?
Being old. Am I become the old person that I've always loathed? Is it inescapable? The evidence presented.
Planning. How does a composer plan a piece? Various ways considered, plus my own approach.
Some politics. The totalitarian nation, and the crossed influences of political correctness, postmodernism, and self-protection.
New breed. The Renaissance person arising from the internet, and why it's not been the same since Gutenberg.
Surviving. People with steady work, such as professors in student- and government-paid positions, directors of funded institutes and nonprofits where other people are responsible for grant writing and fundraising, are placed to perpetuate their points of view.
Colonialism. Noah brought up artistic colonialism months ago, and it's never been properly addressed. Soon it's time.
Why should I pay? Another look at copyright and intellectual property, with cool references to everything from production cost to stealing bandwidth.
Censorship. Censorship rulez, baby, and why it better be good for you.
So I do got the itch to comment again. What should I talk about first? Write to me. I don't promise to be immediately creative, especially because I've been catching up reading my other favorite literate composer blogs, including Soho the Dog, Renewable Music, and Sound Not Music.
In the meantime, it's been a build-stuff-before-winter time. The Home Comfort wood stove replacement was already described, and there's a new stove hood in place. Below are a few quick shots of a cabinet in progress.

Cabinet with door and glass set in place for spacing. The cabinet is Stevie's design and my carpentry.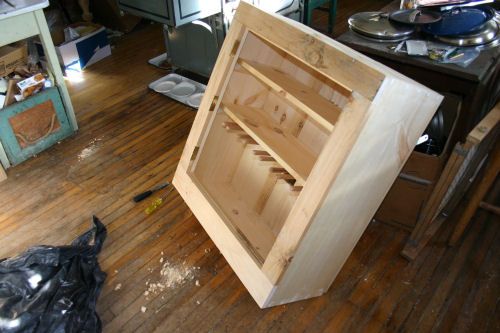 Cabinet with power opening cut (not visible), door frame stops, brass hinges, shelves, and wine glass rack installed. The turnings are scrap from a local mill.

Cabinet with door hinged and attached. The inside will be lighted and hold blue glassware.

Finished cabinet, but not painted, with door latch. It will be painted -- we disagree over the color and detail -- and installed in the kitchen over the stove hood.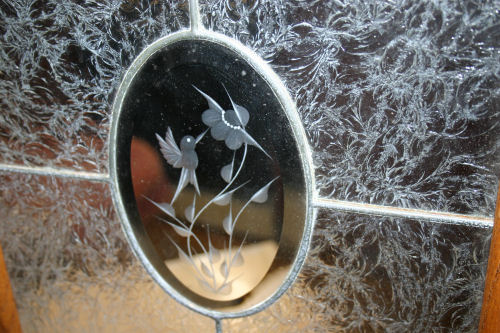 Amazing what yard sale finds will yield. The etched glass in the door was local.