A 365-Day Project
"We Are All Mozart"
A project to create
new works and change
the perception of the
music of our time.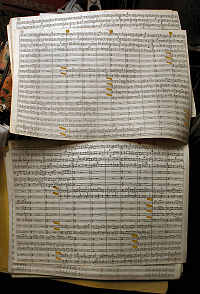 October 25, 2006
This is it. It's happening. Like Dr. Jeckyll and his alter ego, or perhaps more like Larry Talbot and his, the change is coming on.
It starts with a certain lugubriousness, and a disaffection that invites tampering with older compositions. Energy sloshes away like grey dishwater. B vitamins don't help the spirit. Trivial lists rise in importance, as does sorting the glassware. It's a good thing the ballgame is delayed due to rain because otherwise it would be turned off & missed. There is risky electricity about. Even the cats keep their distance.
These are the hours before composing -- not just any composing, like the pleasurable Winter's Stealth a few days ago, but the interior sonic creature waiting to tear its way out through the mental skin. (As the previous sentence was finished, randomly paging through IMDB began, through Lon Chaney and Bela Lugosi. Focus, focus...)
Creating a new piece is enormously difficult. Composers reading along will recognize the struggle of doing much less explaining the actual physical effort of composition, a kind of isometric pressure and pure energy sink. It should have been obvious already a few days ago, because Winter's Stealth, in all its tininess, was playing over and over, autorepeatedly forgotten. Was there more? It wasn't clear. Sure, yes. Maybe. No. Something else, then. And since that day, it is only the state of being self-employed (and presently without work) that prevents a cognitive dissonance so deep in its clashing resonance that in the past it has exploded into stalking walks up the hill, rain or snow, and hours of scrubbing, discarding, scraping, washing, and what amounts to ritual cleansing preparatory to the first sounds being carved into paper.
Hands push through thinning hair, legs lift up and down from the chair, out comes yellowing music paper with a clef or two, then scratched out, then some recorded sounds, then formulaic tools. What will this be? How will be be achieved, no, how will it even be started? What is it for? Who even cares? The self-doubt arrives as certainly as the grim reaper, albeit often compared to the latter's single visit. The web is an evil companion, where all the composers can be paged through. Oh, look who's being performed. Awarded. Keynoting a conference. Recorded in the history books, already. Time to eat.
Oh, good, there's trouble with a friend's network. More delay can be put to good use. The call's over, but baseball still isn't on. The rain delay has stretched into a cancellation. Channel surf now. Oh, no, but the sound, the music is hideous. "Every day is a winding road." Nutcracker Suite. Bad car-selling rap. Some self-mocking orchestration hawking Caribbean travel. Jingoistic Chevy ads. Clever banks, and the reward of the week, "We give the directions around here." Distraction is good.
A cup of tea, and the ideas begin to take shape. It's a bloody freaking orchestral piece, it is. An acoustic team of horses, something cantering down the misty road from the last century, sans driver, vanishing with a visual whoomp. Peabo Bryson is advertising smooth soul ballads. Omigawd. He's graffitied my ears with a thirty-day trial for $9.95. And there's the Apple ad with John Hodgman with its virally cute tune in the background. Stop! Find the music. An orchestral spectre, that's what it is. And the tea's cold now.
Email is arriving. An old-time computer list. A theremin list. Oooo, and some spam. One is "Underpass clef" and another spookily appropriate with the subject, "No mcgowan go procrastinate." How is Ned these days? Looking up Non Sequitur ... wait, Ned's not in it anymore? Just Nate and Ha-Yang?
Focus. Right. Get the camera. Take a shot of what this incipient madness looks like. There. Oh, wait. More email. An old friend has just returned home to the southwest from Italy, and has sent a photo of a flower from Assisi, so crimson. Are these the flowers of St. Francis? It's for orchestra, yes, and it has a very long arch -- it can be heard now, faint wisps of sound rising above the clatter of keys and the whine of tinnitus. More coffee instead now. Why do this? What could it possibly bring as a reward? More confidence destroyed daily? There is not even an orchestra in the future for this composition, and even if there were, would it meet the fate of the rest of the body of work, a list of pitiful performances with the best pieces least heard and some still silent?
The coffee's good. One of those Senseo machines with the expensive pods ... but the refillable pod actually works well and it brews up some wonderful fair-trade Colombian dark roast. Now some calm confidence returns. Screw the famous composers, the schmoozers, and the connected. It's a crap shoot, as became so blindingly clear when there arrived down the broadband today a fantastic piece for violin, harpsichord and percussion by another marginally known but brilliant composer. And word that yet another underheard has finished setting a Greek text for electroacoustics. And that a former student has become an artist after a decade of deep internal struggle with the puritanism of America bred into her.
This mystery is too elusive. There's no peaceful place to explore why these artists work on and on and on while destined for personal oblivion and ultimate oblivion with the human race itself. But there is an electrified cloud of meaningfulness that comes along with the composition-composing-self. (Eats, shoots & leaves.) It is a meaningfulness that has disallowed the ordinary pleasures in favor of grasping the ether, condensing the cloud, distilling the sun, and synthesizing life on a third level.
Yes, calmer. It's almost time to begin.

Incipient madness before composing.