A 365-Day Project
"We Are All Mozart"
A project to create
new works and change
the perception of the
music of our time.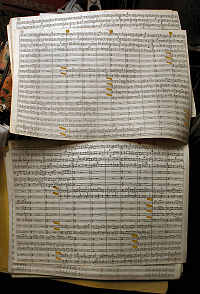 September 30, 2006
This is the continuation of yesterday's personal commentary about people who, for good or ill, have been important in my musical life. I'm trying to de-arpeggiate myself, as I've just returned from going out with the familty. They wanted to see The Illusionist. Just what I needed. 110 minutes of Philip Glass. Fire when ready.
Michael Arnowitt is to seriousness what David Gunn is to comedy. A pianist of incredible brilliance, Michael and I first met at the rehearsals for Mantra Canon, as he was one of the two pianists needed in the pickup group that had been assembled from every available musician in central Vermont to perform my Shōgun in music. Oh, and two-and-a-half pianists were needed to perform the five-hand version of The Lithuanian Liniment March that same night.
That time period is blurry, but I soon got to know Michael, a young pianist recently in town after the fireworks of a prodigy career. He had a small frame but arms of wire with enormous power and control. Sometime in the next few months, he asked for a piece from me. Though I had been a composer for over twenty years at the time and had received a handful of commissions, it was only recently that anyone other than my own ensembles had played my music. The idea was still new, and his request for a composition with minimalist pulse but without the saccharine harmonic characteristics of the genre was thrilling.
We worked together as I delivered the score, and it became clear that not only was he a brilliant pianist -- he was also practically blind. He studied and learned the entire morass of Rough Edges, nearly thirty minutes of music written linearly on six staves, and gave several performances. And he asked for more, and learned Csárdás and Tirkíinistrá and dozens more by other composers. Not only did he play, but he analyzed to be sure each sound was placed precisely. Some scores were matted in pencil notations like a cat with burdocks. He taught me what it meant for a performer to respect a composer's work.
Michael continues to work on new music as well as the complete set of Beethoven piano sonatas performed with his own age synchronous with Beethoven's, as well as Bach, Chopin, MacDowell, Brahms, Schumann, and the entire panoply of classical artists -- most with the lesser-known works, not the Piano Top 40. He issued a self-produced CD, then one through Musical Heritage Society, and more self-produced. His energy is boundless, and while his vision continues to falter, his dedication does not. He increased his performance of jazz (long a love of his music-making) and as I write this is performing jazz improvisations with John McKenna in concert at Hunter College.
Difficult as he is to work with -- and yes, he is difficult and often rude -- Michael remains a long-term influence in his commitment to the art. (There is a recent documentary on Michael's life entitled Beyond 88 Keys.)
Thomas L. Read is by contrast a silent force. In a review of folks who changed the course of my life, T.L. didn't come immediately to mind, yet the past two decades have always found him present, making composers' music possible.
T.L. is also a powerful composer himself, teaching at the University of Vermont and playing in the Vermont Contemporary Music Ensemble. We met at an organizational meeting of the Consortium of Vermont Composers, which was planning a first festival of new music in the state. He was thoughtful and quiet and so dryly funny he could crack skin at ten paces. He was precisely the type of person whom you would overlook as a musical terrorist mastermind. We crossed paths again -- and I admit to taking a few seconds to recognize him -- at Michael Arnowitt's premiere of Rough Edges, which he thought was brilliant, and told me so. I hardly heard his words, though, being overwhelmed by a real live performance of my own notes.
And then T.L. gave me something for which thanks could never be enough: my Copland moment. Although Mantra Canon had been premiered under my baton in 1986, he selected it to conclude the first statewide Vermont Composers Festival in 1988. I walked in on the first rehearsal, and it took a few augenblicks to realize exactly whose notes were being played. Mine! It was luscious, music streaming from the stage with a full orchestra. And a few weeks later, he handled the performance flawlessly.
But there came more. His essays changed the ways in which I approached composition, and his commitment to the presentation of new nonpop was a model. He played in the VCME's performance of A Time Machine and in 1992 after the death of Louis Calabro, whose Sage City Symphony had commissioned Softening Cries, T.L. took over, giving it a lustrous premiere performance. My penciled gift to him of the quarter-tone Thièle (his nickname spelled out) ended up being performed -- yes, he is also a virtuoso violinist -- two years later. He was part of Aurora Cagealis and not long afterward surprised me with the premiere of the Seven Chocolate Eclems. He played in my arrangement of Strayhorn's Lush Life and in Unisons and Build, Make, Do and Descent of the Particles and Into the Morning Rain.
The consistency of T.L.'s respectful attention to his fellow composers' works, coupled with his own commanding music, is always a joy.
Catherine Broucek Orr is a different example of dedication. We first met during one of my inattentive rushing pass-throughs of life, when she was conducting a local choir about to go on tour to Vienna. Whatever music I had offered at her request has vanished from memory, but rather than the heavy tunes, she chose my peculiarly old-style Jubilate Deo. Somewhat tongue-in-cheek, the Jubilate was a take on the classical era. And that was that. She performed it in Vienna, but no recording was made. It seemed a strange comma in my musical life, this second European performance, and once again of a tongue-in-cheek piece, the first having been the 1967 Choral Metamorphosis on Effervescence -- an amusing if hideously puerile three-movement takeoff on the Girl Scout camp song, "One Bottle of Pop," premiered in Bucharest. Not long after Jubilate, Catherine organized a funny music concert, and the chorus was singing O Crewell Fortune for a lotta laughs. Combined with my choir conducting, for which I wrote many tunes and arrangements, it was a strange choral side-life I had been living.
But something happened that changed her approach. She was studying conducting to improve her skills, and founded the Montpelier Chamber Orchestra to bring classical orchestral music to Vermont's capital city, which had never boasted a resident orchestra. And after few years of building the group's sound, Catherine began commissioning music. It was not the commissioning that amazed me -- though hearing the orchestra perform Sourian Slide and Mountain Dawn Fanfare and especially the half-hour flute concerto Mirrored Birds was deeply rewarding. No, it was her attitude toward the music. She did not know new nonpop music. She was learning from the ground up, baton in hand, the compositions of several artists -- David Gunn, Gwyneth Walker, Beth Anderson, Mary Lou Newmark, me, and that old guy Charles Ives.
She called me in to review the scores, to ask me how to conduct parts of them. In Mountain Dawn, it was the rhythmic aleatory. In Mirrored, it was the combination of string effects and the entire contour of the piece, built as it was in high minimalism. We reviewed sections and how to have them sing through the massed sounds of the orchestra. When she knows what she wants, she wants it exactly, and asks quietly for the orchestra's response. When she doesn't know, she works hard to learn, and calls in help. Catherine is a study in humility.
* * *
That's it for personal portraits. Maybe I'll rag on Philip Glass tomorrow. I've still got that arpeggiastical taste in my mouth.

At the 2005 Vermont Composers Festival, composer/violinist T. L. Read demonstrates the correct way to use an imaginary light saber to threaten reticent musicians.