A 365-Day Project
"We Are All Mozart"
A project to create
new works and change
the perception of the
music of our time.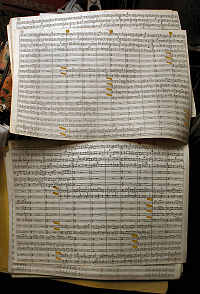 September 14, 2006
Gosh it's been serious the past few days. Radio-frequency identification, a conference presentation, and being all bent out of shape over something minor. And I've been bending my eyes on the final production of a short video for the Vermont Grocers' Association. So that must mean it's time again for random topics day!
* * *
Minor bit: "Store" is back. Have you noticed? We cycled through shop and dealer, center and boutique, emporium and outlet. And now we have stores again. Nice touch. Homey.
* * *
Thing I like: Google Earth. It makes the world feel small. Vermont's still a blur, but there are new photos of the Netherlands up this past week. I can see my good friends' enclosed back yard in the Netherlands, picnic table and chestnut tree. Across the continents and ocean in a flash, there's Tanner Rapids in the Grand Canyon. Pangs of wanting to go back. It's been too long. The harbor at Rekjavík, my Mom's place in New Port Richey, and where Stevie and I lived in Amsterdam. And places I couldn't imagine in real life. Baghdad. Kuala Lumpur. Tierra del Fuego. Mmmm.
* * *
There's not been much reaction to the productivity survey. A few "interestings," a couple of "I must have missed its," a complaint from a composer who thought it was anonymous. But if there's been discussion, it hasn't come my way yet. Ears to the ground. (Is that the train coming?)
* * *
There was a curious quote from Joyce-Anne Locking on the Canadian "More New Hours" discussion list: "A great composer and teacher of mine, Peter Paul Koprowski, once said: if you want to be a composer you have to desire to write music more than you desire to breathe." Well, yeah. I think. I know composing makes me want to stop breathing sometimes. It's an absolutely suffocatingly consuming passion when it's in progress, and a suffocatingly chilly partner the rest of the time. Desire? I'm not so sure. Compulsion, certainly. Anyone else on this?
* * *
Oh, hey! Last month I mentioned George Dyson's The Progress of Music from 1932. It just arrived, a tidy brown hardbound book. Cost a couple of bucks at a used bookseller. I'll be reading it over the next few days and will report soon. He starts by talking about how the church, a point of stability, was culturally replaced by the railway station, a point of arrival & departure. The world was just coming out of a depression and about to plunge into another vast war. Dyson was writing from a hazy historical point of optimistic pessimism. The five chapters are "The Church," "Castle and Chamber," "The Stage," "The Concert-Hall" and "Men and Machines."
* * *
In looking for a bizarre musical intro for the grocers' video (don't ask!), I listened to the cabaret I wrote twenty years ago, Beepers. David Gunn and I had challenged each other to write such things, and always game for odd behavior, we did it. David wrote Big Sister, and I already mentioned Beepers here back in July. But today I had a good, objective listen to the old show. Some of the material is puny, but a few songs aren't bad at all. The original plan was to orchestrate oth cabarets, but we could only get a hefty piano and marginally attentive drummer. Indulge me in a sometimes funny trek back to the early days of personal computers in a love-triangle cabaret. (If you're looking: Except for the Finale, the score is still in ink.)
The Overture (stream/download) is classless pastiche from the rest of the show, but Color VDT Blues (stream/download) ain't bad for a nonpop guy, and nicely sung by Andrée Frazier. Techie Roulette (stream/download) is loud and cheap, and it's hard to tell if Nerds (stream/download) was just so badly sung it didn't work -- it was intended for a group of high school kids to sing, but like the instrumentalists, they weren't to be found.
And then there's that faux-torch song Biodegradable Interface (stream/download) -- doggone funny and with some good harmonies. This was journalist Gayle Hansen's first foray onto the stage, and did a great job as Reba. The show's big laugh was Software Surprise (stream/download), which gave me a chance to put 1930's harmonies against a melody with a climactic tritone -- and some sly words effectively acted for the laugh by classical tenor Stuart Duke as Ladiszlaw. Cheap again and teeth grindingly painful was the rhyming & assonant mouthful of Gilbert&Sullivany Edible Bytes (stream/download), but on the other hand, the "hey I know that" teaser chorus opening of I Wasn't Born a Beeper (stream/download) led into another melodic play with the tritone disguised in Lydian mode, and some (then) computer in-jokes and a lot of left-hand piano noodling.
The show's political piece -- and fairly viral once you have heard it a few times -- was Silicon Death (stream/download), which had a pretty convincing message considering it was the early years of assumed-to-be "clean" computer technologies. Andrée Frazier sang it as Erika. Infomaniac (stream/download, here preceded by a scene change) again suffered from a poor performance and this time the inability to articulate all the tongue-twisting rhymes at high speed in 7/8 -- the composer's fault, I'd venture. A lumpy song in 15/8 that actually had some pretty good motion (though some very old references -- "cards in the deck") was High-Tech Wreck (stream/download), followed by the immensely funny-sad (and oversung) Power Failure in My Heart (stream/download). The whole thing was tied together pretty well in the quasi-operatic Finale (stream/download) that had three singing voices (doing a counterpoint of Power Failure, Born a Beeper and Silicon Death) and a fourth one dissonating in octaves with the piano playing an upper melody line ("...for love demands a suspension of logic").
Noah Creshevsky wanted me to talk about Bruckner. Cabaret's the closest I can get. Damn melodies and harmonies. I should never do that again.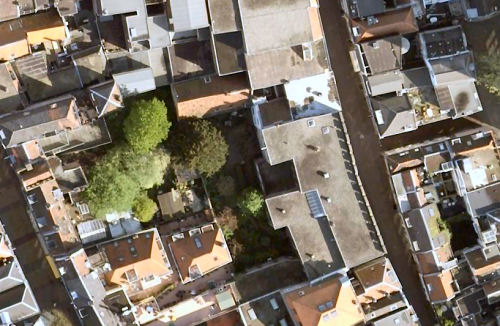 My friends in the Netherlands as Google Earth shows them. Up and to the right of the clump of trees you can see their outdoor tables in the shade.