A 365-Day Project
"We Are All Mozart"
A project to create
new works and change
the perception of the
music of our time.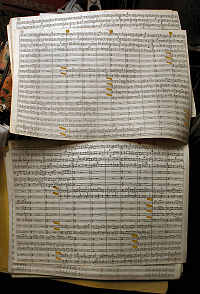 September 4, 2006
I almost had nothing to write about tonight, and as far as music goes, there's still nothing. But a funny thing happened on the way to the bedroom...
Ever go to a restaurant where everything is terrible, and you wish you'd stayed home? That happened to us two weeks ago at a small Mexican restaurant in Randolph, a town some 20 miles south of us along Vermont Route 12 that twists through the Granville Gulch and past the Snowsville General Store. We'd heard of it, and we love checking out new restaurants, especially in Vermont, where you can imagine it's hard to find interesting much less reasonably authentic ethnic food.
We're not gustatory slouches, Stevie and I. Her family used to host James Beard in their home, her Dad was an oenologist, and she was head chef in a local Mexican restaurant for several years. I learned Chinese cooking from chef Chu Ping Lee in Trenton, New Jersey, and hearty American cooking from my creatively frugal family. The two of us have spent many years hunting down local fare, and then bringing home and testing recipes we've discovered. It's become a private passion. Stevie has brilliantly recreated a pear tart we watched being made in St.-Priest-Ligoure, and the two of us are still struggling to duplicate the dark creamed spinach we first tasted in Prague. Right now we've been working with Korean dol sat recipes after searching for several years to find the stone pots. Yes, we're amateurs, but experienced and competent and good fun, working in a kitchen that's the most -- actually, the only -- well equipped room in our home.
The Mexican restaurant was a disaster. The two of us arrived to find a single, small, cheerfully decorated room with seven tables, five of them occupied. One person waited ahead of us. He was seated, but in the process we weren't acknowledged -- not even a nod to show we were standing there. Though a table was empty and clean, it still took several minutes for us to be seated. The hanging light above the table was burned out and the server didn't know how to change it. (How many servers does it take to change a light bulb?) We asked for a candle, but she thought we were joking. The table water was warm. We should have known ill fortune was ahead, but we stayed in the clichéd triumph of hope over experience.
Service couldn't have been slower, even with two servers for the seven tables. If that meant the food would be piping hot, we thought aloud to each other, the half-hour wait would be mitigated somewhat. But when the food arrived, it was barely lukewarm, as if it had been waiting as long as we had. And it was poorly prepared. The meat in one dish was cold, flavorless and full of fat and gristle, and the beans were watery. None of it had much seasoning. The cheese on the other dish was hardly melted, and the edges were cold and hard by the time the plate arrived. The server rarely came by; we had to chase her down for a second round of beer -- and my choice was no longer available because enough beer hadn't been chilled for the evening. We were offered dessert and declined, asking for the check instead. Once more we had to wait -- and after the check appeared on the table, we were ignored. We gave up, took it to the register ourselves, and got out of town poorer than we'd arrived.
We're patient in a busy restaurant, but it wasn't busy -- small and crowded, but not busy. And there is no excuse for cold food and improperly trimmed meat. The up side? The food didn't make us sick. But it was doubtless the worst culinary experience we'd had since making the wrong choice of restaurants in 1998 in Sauveterre, where the special turned out to be turkey slices and canned gravy.
Restaurants come and go in Vermont, and we hoped we might enjoy this Mexican one if it improved, so we wrote a letter to the owner (yes, a letter, via postal mail) outlining the observations above. And then forgot about it.
Tonight (almost two weeks later), just when there was nothing to write about here, there arrived a marvelously bizarre email. It read, Please stick to what you call music, you're definatly not a food , nor a restaurant critic. I'm not involved with the medical profession, but absolutly observe a "slant" in your critique.
Could this be from the owner? As a former business owner, I can't imagine responding this way to a customer who had taken the time to write a detailed letter about the quality of my products and service. The least anyone should expect is a polite and even terse thank-you -- not a misspelled, ungrammatical and insulting email. (And no, I have no idea what the 'medical profession' remark meant, aside from a certificate on the left side of the restaurant door that read "Doctor".)
Well, that's it. When you're driving through Randolph, Vermont, the pizza shop is a good bet.
(One more thing: There may not be any commentaries the next few days, as I have some thick technical articles to get wrapped up.)

Our own warm potato leek soup sprinkled with fresh chives and parsley from the garden, with puréed black olive swirls and hearts of blended roasted red peppers. Come join us for dinner!