A 365-Day Project
"We Are All Mozart"
A project to create
new works and change
the perception of the
music of our time.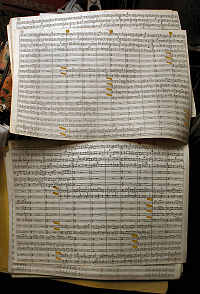 August 5, 2006
You are who you are where you are when you are. Nothing profound there, except the extremity of it.
These commentaries have been a way of rolling out reality for myself, of putting down (and putting aside) old and new ideas or arguments, or testing thoughts against reflection. Yet, aside from sheer exhaustion, taking on the mantle of documentary photographer (a sampling of the results of which you can see on the Vermont Chess Camp site) changes perspective, both visual and personal. This daily exercise floated out of mind and dissolved. The image dominated the words.
Composer Jim Grant made the point very firmly in a recent note, in a kind of inverted way: that he is a composer when he is a composer, a cook when a cook. Being a composer does not define him. Despite my sense of disagreement (or maybe disappointment) with not being an animal of solitary focus, I admit to being subsumed by roles. As each student's personality grew more evident during the past week, my eyes through the lens were able to see more and to direct the instrument's focus. I shed the composer's and writer's clothing and donned the garments of soul-catcher.
Examing the photos, I increasingly find the distinction between digital photography and film. The sensitivity to light is different, the results presented without the rich clarity and color intensity of Kodachrome or the warm, even noise of Tri-X. I miss the Kodachrome yellows and Ektrachrome blues that came out of the Olympus OM-1 that came along on thirty years of meandering, documentation, and magazine photography.
There's nothing wrong with the medium, just the age of the photographer who has only very sluggishly adapted to the more clinical nature of digital response to light, and the difficulty of coaxing more information from the original through digital manipulation. Changes in chemical temperature and processing speed and even using other processing chemistry could encourage the nascent image on film to reveal more detail, and reveal it differently as well -- the dark and light areas would be exposed and developed with varying sensitivity. One could even exploit the medium's failures. Digital fails poorly -- but I'm learning.
This isn't about chemistry or an analog-vs.-digital debate. Rather, it's a reaction to the transparency of becoming someone else. The digital camera has enhanced that process by being transparent to the personal interaction -- no more loading of film every forty exposures or using loud motorized film backs. Batteries in one pocket and memory cards in the other suffice for a day, permitting the eyes to see and the people, subject and photographer. More cameras in the world seems to reduce camera shyness, to enhance interaction without the ever-obvious interposition of technology. There is an especial pleasure in that interaction, and the accompanying absence of fractional-brain worry about having enough film or spending too many dollars on it, or explaining one's presence or purpose.
I tell the kids at the beginning of the week that I'm invisible. They laugh, but they believe, and I believe, and among us we build our fiction, a stick-figure M. Jourdain of a comedy. Our mutual conspiracy encourages a collaboration and camaraderie. So taking on my role means taking on no visible role, becoming someone pretending to be without a persona for five days. No, not a Village of the Damned self-sleep, but a human vapor as slight and quiet and evanescent as 200 pounds of flesh can be -- the effort to be effortless, the work performers and cooks accomplish daily that is usually alien to the self-focused composer inside.
Now it's time to re-inhabit some other old clothing. Next week is the concert at Lotus Music & Dance as part of Tom Hamilton's Cooler in the Shade series, "Kalvos & Damian: Live and Unhinged." Together with David Gunn, we will reprise our erstwhile radio show as a live concert event on August 12, including performances by ourselves and Beth Griffith, Lydia Busler-Blais, Jacqueline Martelle, and Joseph Kubera.
And then the well-worn composer clothing comes out of the box.

In our joint fiction, the students allow themselves to be photographed without seeing the photographer