A 365-Day Project
"We Are All Mozart"
A project to create
new works and change
the perception of the
music of our time.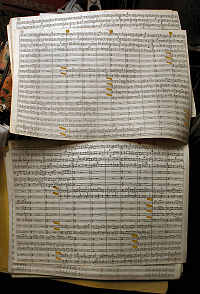 July 30, 2006
Some random thoughts on a Sunday...
My spirit is settled after yesterday, thanks to some kind emails and many suggestions. Whatever happens with my opera will have no relation to any other composer's project. So enough about that, and thanks to all for the warmth and generosity.
During the avant-garde days, I wrote Withered, a piece for extended voice and percussion on a text by Maureen Gibbons. For me the composition was groundbreaking, both in that it was my first extended voice composition for my own voice, and that it included an unusual percussion ensemble of water glasses, cymbals, lentils, drums and juice cans. It has been performed occasionally since 1972, and it was to be published by Westleaf Edition in 1993. Unfortunately, the text's author had disappeared. Fifteen years of phone calls, letters and emails returned no clues; her disappearance was the reason for my comments for the copyright office's "orphan works" hearings. Last week an email arrived. Maureen was alive and well, and after some catching-up e-conversation, she gave that permission for publication.
I was just writing to composer Alex Shapiro about our garden. The deer and woodchuck have, despite the electric fence, still managed to devastate the eating part of the garden. So aside from some tomatoes, potatoes, carrots, a few peppers, and some squash and pumpkins, there will be nothing to harvest this year. The rains caused the weeds to grow up, shorting out the low woodchuck-defense wires and giving the critter full access to the remaining tasty buffet of fresh goodies -- after it had already eaten the cauliflower, broccoli, and cabbage (both green and red). It's been a rough year. The peas didn't make it in the early hot weather, and the bean planting was washed away in the high water. The gardens are a psychological mainstay as well as a source of winter food, so their loss comes hard.
The Google customized home page sits over on a second monitor, where I can distract myself from composing by watching the time, weather, movie listings, ever-changing headlines from Salon, Expatica, de Volkskrant, Slashdot, Wired, CNet, Reuters, EFF, CNN, BBC, New York Times, and the weekly updates from the New York Times Magazine and the New York Review of Books. Sometimes I even read them. The word of the day is there, and the quote of the day. Most of the time they're unremarkable, but yesterday there was one from E.M. Forster that surprised me: Works of art, in my opinion, are the only objects in the material universe to possess internal order, and that is why, though I don't believe that only art matters, I do believe in Art for Art's sake. Really. The only objects to possess internal order. From old E.M. Who wudda thought?
Those waiting for the composer productivity article will be happy to know that it's done. As soon as I hear suggestions from composer and New Music Box editor Frank J. Oteri, it will be headed for the virtual hopper down in New York. The Box is no longer monthly but rather an ongoing update of articles and events -- an ideal circumstance for a web publication, more bloglike and more vital. An announcement will appear shortly, assuming it passes muster with Frank.
Tomorrow begins Vermont Chess Camp, the organization created by the family elders. My daily entries here will be somewhat slender, as twelve-hour days will occupy the time of this chess camp documentarian. Although I dabbled in chess long ago, passing a chess board has never commanded interest as a score would grab me en passant. So how many artists have also been chess players, good chess players? What does it bring to composition? I've known no dedicated composers who were also dedicated chess players. Performers, yes; composers no. Chess seems to go along with (or maybe enhance, depending on whose promotional literature one reads) level perception, strategic thinking and informed decision-making. Is there a creative element beyond solving problems? Perhaps one of the 3.5 readers of these commentaries will offer an illuminating anecdote or two.
Composers are happy to talk about their premieres, but few have opportunities for second performances -- performances not part of a single series, that is. That's why a surprise came my way the a few days ago: a second performance of Elusive Parallels (In Time) in Lincoln, Nebraska, by The New Music Agency. The ensemble was unknown to me, and apparently they had downloaded the score, playback file, and program notes with nary a word, and performed the piece at a May 2006 concert. Well good for them! It's a delight to see that those scores which are free to download actually get some use. Bravo, Agency!
It's not the first time a surprise performance has taken place; many electroacoustic pieces are broadcast around the world. But some performances are even real, live premieres. Noma (a short 1991 flute work that grew eventually into Shahmat) was premiered in Massachusetts, and I learned about it when it was playing in the background during an NPR "All Things Considered" report. My knotty Variations for piano were first heard in the hands of Carson Cooman a few years ago, before I knew Carson as an incredibly prolific composer and performer. And the premiere of Grand Mirliton took place at Juilliard, though no one can recall exactly when it was done or who performed it.
Read Randy Nordshow's article "Let's Go Outside" in New Music Box. Randy makes good points about the differences between traditional and what might be considered personal or vital alternative venues for music. But they are still specific locations where one goes to hear music.
Insurgent music can be more interesting -- music that people come across unexpectedly. Perhaps it's music heard in passing enjoyed by a culture different from one's own. Perhaps it's a deliberate accident -- coming across a performance installation, being surrounded by work consciously used to alter the space, removing expectations by the experience-beyond-expectations. The outdoor space particularly lends itself to dis-expectation, as do dull public spaces. With well-designed psychoacoustics and modeling of particular acoustic spaces (resonant concert halls, claustrophobic closets, harsh showers, intimate bedrooms...) with multiple speakers, an artificial acoustic space can be created. It's been variously attempted as environmental space and as music (even as old music done anew), but I'm imagining a plethora of these as original compositions -- in construction spaces enclosed by scaffolding and canvas on the sidewalks in New York; on the long escalators and people movers in airports or train stations; in a close just outside a meadow in a country hillside (much as Phil Kline did in Vermont).
I'm reminded of being in the U.S. Capitol building in Washington D.C. as a twelve-year-old. If memory serves -- and sometimes it's exaggerated by time -- one could stand inside at one edge of the dome, speaking in a whisper, and be heard on the other side. There was a perfectness of reflection. Creating an arbitrary sonic space anywhere and filling it with interactive sound is a project of enormous interest. One could be inside a concert, inside an electronic sphere, inside an opera (and perhaps momentarily become a character), inside a French horn, inside a hyperspace. It would be fleeting, perhaps -- just enough time to walk through that scaffolding, ride the people mover, or hike past the meadow's edge.
The localization cues needed to do this are advanced. Most of the research is in estimating and measuring sound fields using acoustic holography -- reconstructing the sound field emanating from an object, rather than creating an arbitrary object in imaginary acoustic space. Once the tools are turned inside-out, so to speak, creating a musical event as part of a virtual space-within-a-space becomes real. It's done to some degree, but not easily. Today, electroacoustic composers and their compatriot engineers work to build diffusion systems that emulate spatial movement, but these systems are large concert-hall installations. The intimate space only a few feet long imagines loudspeakers (or speaker 'lengths') momentarily removing the outside world (as do noise-canceling headphones) and replacing it with a musical/electroacoustic environment.
Recall how it feels to drive into a tunnel with the windows open, or leave one building and cross the street into another, or even go from store to store in a shopping mall. The sound environment changes dramatically, sculpted by air and cars and tiles; furniture and alsphalt; and carpets and displays and background music -- but the eyes (and sometimes the nose) provide cues for an expectation of change. Now imagine that the acoustic change takes place without another sensory change, or the other sensory change is not consonant with the acoustic change. That's where a musical insurgency lies in wait.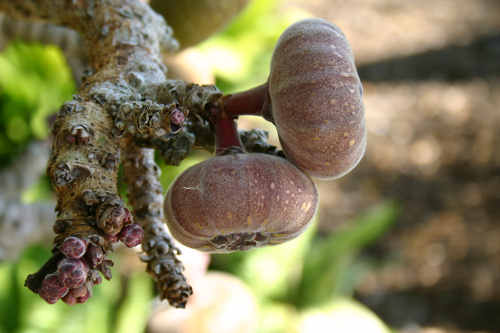 There are no topical photos today, so how about some insurgent figs snapped in Florida this January?