A 365-Day Project
"We Are All Mozart"
A project to create
new works and change
the perception of the
music of our time.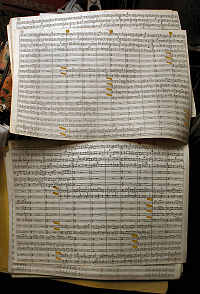 July 13, 2006
A recent discussion on concert experiences brought a note from Daniel Dorff, who spoke of a performance of Schoenberg's A Survivor from Warsaw. He wrote, "the audience was so moved and awed that there was dead silence at the end, no one could break it with any applause or even moving around in their seats."
It brought chills. When I was just 17, the New Jersey All-State Chorus and Orchestra performed that piece in or near Newark, New Jersey. The audience reacted in exactly the same way, and for this teenager typically overwhelmed by angst, it was a transforming experience.
Transforming experiences matter, and it prompted me to think back to the musical events that changed me and consequently music's meaning and the way of composition. Often expressed in these commentaries is the notion that the musical art is not merely entertainment, even if it consequently entertains. Every piece is different from every other, and in that difference is found the potential moment of transformation for the listener.
My experiences were often from recordings, which were indeed my introduction to nonpop, and some of the places and dates may be wrong. It was only the moment of transformation that remains.
Karlheinz Stockhausen: Gesang der Jünglinge, ca. 1964. It was my habit, living with parents for whom classical music of the traditional kind was too strident, to listen to this strange music flat on my back between the two small speakers hooked to my handmade amplifier. It was intimate but not isolating as headphones might have been. The dark-red LP cover was in my hands, and the needle dropped. The first sounds of Gesang were unfolding inside my head, unlike anything I had heard before. I memorized it, every vibration. Years later, when I met Stockhausen expert Elena Ungeheuer, I came into the restaurant vocalizing the sounds of Prei-ei-set den Herr-err-errn... Preiset den Herrn! Pfllnnnggwaang.
John Coltrane: Ascension, ca. 1965. As the only true music fanatic who worked at the local library in Scotch Plains, New Jersey, I was given the task of designing the listening room and populating the score and record collection. Listening posts were built, scores of classical chamber and symphonic music and operas arrived and were cataloged, and I spent hours combing the bins at Harmony House on Route 22. The kind, astute and very adventurous listener and Harmony House clerk George Hall made suggestions, among them my then-blank area, jazz. The first album was Ascension, and it ruined me. That having been heard as my first jazz listening, no other jazz could approach its depth for many years. It defined jazz for me.
New Jersey All-State Choir and Orchestra performing Arnold Schoenberg: A Survivor from Warsaw, near Newark, New Jersey, ca. 1965. My instrumental training began in 1963, so my bass clarinet skills were limited. But I attended every concert possible, among them the performance in which fellow high school musicians were playing. The rest of the program is long forgotten, but the powerful sounds of Survivor caught me up. There were no twelve-tone rows in my intellectual knowledge of music yet, only this powerful rising sound without precedent. And when the chorus stood suddenly, together, to sing Sh'mah Yisroel!, there was nothing else left in the universe.
The Czech Chamber Orchestra performing various forgotten music, Carnegie Hall, 1968. As Rutgers students, we were able to purchase $1 tickets to the prime seats at Carnegie Hall. What the orchestra was set to perform, I do not remember. But sometime during the concert, perhaps at intermission, there was a commotion and the director came forward to announce that Prague had been invaded by the U.S.S.R. and the Prague Spring was over. They would cancel the remainder of the program and play the Dvorák Cello Concerto to mourn the lives lost and the freedom taken away -- and, as I recall, they played from memory. There were rivers of tears that night.
Rafael Kubelik conducting Martinu: Double Concerto, Carnegie Hall, ca. 1969. Though I had been studying with F. Austin Walter, conducting was still somewhat of a mystery, all mechanics and little else to show for it. Then one night as I sat in the first row of Carnegie Hall clutching my $1 ticket, Kubelik started to sweat heavily. The Martinu Double Concerto is tough, and both his hands were at work at the height of the concerto keeping the beat, cuing the performers, and shaping the ensemble's expression. Without pause, without (to use the cliché) missing a beat, Kubelik swapped the baton to his left hand, reached into his pocket for a handkerchief and mopped his brow, returned it to the pocket, and swapped the baton back. The Martinu was good, but that was just great.
The Metropolitan Opera presenting Alban Berg: Lulu, (unfinished version), ca. 1978. By this time, my local reputation as a composer was established, and the previous year had seen the presentation of Plasm over ocean, an existentialist chamber opera. Even so, up until Lulu musical drama had existed for me primarily in two forms: as dreadfully performed popular operas and as musical drama on recordings, from Eric Salzman's The Nude Paper Sermon and Peter Maxwell Davies's Eight Songs for a Mad King through the grandness of Wozzeck and the hoped-for Philip Glass Einstein on the Beach, whose local performance was canceled. By the end of Lulu (unfortunately the version before Mme. Berg gave permission for its completion), I was washed out, drained. The power of this peculiar form was clear, and I began considering my Erzsébet opera.
Performing in Thomas Tallis: Spem in Alium, with Brian Webb conducting, Montpelier, Vermont, ca. 1986. The concept of musical density had been infusing my music, and Spem in Alium was the densest piece I knew before the Twentieth Century. As the tenor in quintet number five, I could sense the breaking point of clarity. With each beginning cycle through the eight quintets -- Spem is for forty voices, written in 1567, with its history unclear -- I strained to keep the counterpoint untangled. But it was no good. There was a limit, and Tallis had reached and exceeded it, creating an effect of pure harmony that defied biological disentanglement from fabric into threads.
Thomas L. Read conducting Mantra Canon, Burlington, Vermont, 1988. Every composer should have the Copland Moment: that instant in neuron-time when a piece of music is being rehearsed, and the composer simultaneously realizes "that's mine!" and "that's good!" The anecdote had been told about Aaron Copland, that he was late for a rehearsal or concert, and stood at the door. The music, he realized, was his, and was good. Although I had conducted the premiere of Mantra Canon, it was a chamber ensemble with limited strings and the piece could not hold up effectively with its forces of orchestra, chorus, two pianos, six percussionists, and descant soprano. So two years later, when it was selected to conclude the first Vermont Composer's Festival, a full orchestra was prepared. I arrived late. But what I heard standing at the door was mine, and was good.
A performance of Margriet Hoenderdos: December '91, De IJsbreker, Amsterdam, 1992. It was a typical European new music concert of the time, all jagged edges, and no piece stood out. One, whose title I could not recall later, was written for two E-flat clarinets in microtones in the high register, and was absolutely hateful, unrelenting beating and ear-crunching. I was disgusted, and the Volkskrant review called it "een hoofdpijn." But upon awakening the next morning, I realized it was a work of genius, the single finest exploration of a duo instrumental relationship in the repertoire. More than a decade was spent quietly inquiring after one Margriet Hoenderdos, Amsterdam composer. In 2004 we met as part of a Kalvos & Damian interview series, and just yesterday a copy of the December '91 score arrived for performance next year here in Vermont.
There are other transforming moments, some where the music was peripheral to the place, such as Matyas Templom in Budapest on Easter Sunday 1992, where a Haydn mass was performed and the Hungarian National Anthem was heard once again for the first time without the threat of tanks rolling into the city. If only my own music could have enough depth to matter; some days it's almost there. Almost.
To Readers
Although this is not a traditional respond-in-real-time blog, I am interested in hearing your thoughts. Please write to me now & then.

Last night brought storms, high water and beautiful blossoms, including this deep red Asiatic lily.