A 365-Day Project
"We Are All Mozart"
A project to create
new works and change
the perception of the
music of our time.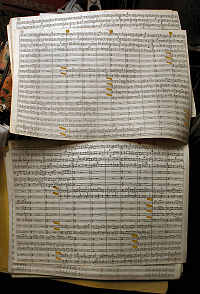 July 4, 2006
The internet story is a commonplace. But what isn't evident is how deeply the internet (along with other technology) has expanded the lives of composers, this composer in particular. It probably saved my life, and I recount it here at the request of composer Alex Shapiro.
Let me take you back to Trenton, New Jersey, 1978. Trenton was an old industrial city, still marked by the riots of the late 1960s. City planners had created a car-free main street in 1974 in hopes of revitalizing the downtown. To celebrate that fine new open space, a group of us created the first Delaware Valley Festival of the Avant-Garde (succeeded many years later by the Trenton Avant-Garde Festival). This was the post-Fluxus era. Most of us (there were originally 16 artists in Trans/Media, eventually growing to nearly 40) felt liberated from the terribly serious in-your-faceness of those Fluxus artists. One of us taught Kindergarten, another worked as a librarian, another for McDonald's, one was in and out of jail. I drove a delivery truck.
We freely traveled to do art events and radio interviews in New York and Philadelphia, and gave two more festivals of our own. During those years, my performance time was also spent in New York, where I worked with the Judith Scott Dance Company as musician and dancer, made the electronic jewelry that David van Tieghem used in his percussion performances, played my own pieces in Charlotte Moorman's New York Avant-Garde Festivals and sat in with many other artists, and generally was a peripheral but constant member of the New York scene. The late 1970s were about to be breakout times for artists like Laurie Anderson (who I wasn't to meet again for over 20 years) and Philip Glass. Our organization gave and sponsored hundreds of concerts, and at the New Jersey State Museum, I co-produced events by Phill Niblock, Joseph Celli, Mabou Mines, Jane Cooper, David Behrmann, Mimi Garrard, David Gibson, Ethridge Knight, Jackson MacLow, and our own Dashuki Music Theatre.
By 1978, everything felt possible. Arts money was still flowing in a constant stream, if not a river. And then Charlotte lost her funding for the last New York Avant-Garde Festival. It was a sign, and at age 29, certain that my composition was strong enough that work could be done just as effectively from 350 miles away as it had been from 50 miles away, I moved from Trenton to the tiny town of Roxbury, Vermont.
Now let me take you back to Roxbury, Vermont, 1978. The town had dwindled to a population of 330 in its 42 square miles. It had a two-room schoolhouse, a country store, two churches, a post office, a town hall. There were farmers, woodcutters, local university professors (we were seven miles from Norwich University, a military school), mechanics, tinkerers, layabouts. To reach anyone in town by phone, just four numbers needed be dialed. Summer temperatures hardly touched 95°F, winter temperatures dropped to near -40°F. Spring was awash in mud. The rent for the first floor of a large village house was $85 per month, plus heat and utilities. It seemed ideal.
Instead, it was hell, a cold hell. For a composer, it was a colder hell. For a technology enthusiast, it was absolute zero, frozen in time.
The snow piled up that first winter. A few charming inches, then one foot, two feet, three feet, more. I was shoveling it into piles over my head. Burning limbwood in an Ashley stove because a local character figured he'd unload some fast-burning hardwood on the down country folks. Thawing pipes in the crawl space under the house with a torch. Listening to the child upstairs jump endlessly up and down. Accidentally burning the wool rug with coals fallen from the stove. Hearing the roar of a chimney fire that was put out just in time. Having two old cars -- a Valiant and an Impala -- that wouldn't start on the worst mornings. Watching bills going unpaid. Feeling despair creeping in under the doorsills.

Discouraged and sitting by the Ashley woodstove to stay warm, in Roxbury about 1980
There was no money to return to New Jersey. Through the first winter, we made the best of it. David Gunn moved to town shortly afterward, but following a poorly attended and misunderstood debut concert (including Not Vermont Hardware), he was gone by April (on April Fool's Day, when I dumped some oil below the engine of his Colt, and he flew into a car-kicking rage. He never did like that Colt.) We planted gardens in spring, and I looked for work. The town shrank more. The Catholic Church closed. The United Church closed.
My New York and New Jersey friends had fallen away in just months, as simple geography trumped artistic collegiality. I was stranded in oblivion. Cities are cruel. Because they contain so much, they become walled in by attitude. The country looks to the city, but the opposite rarely happens. We become objects of amusement, material for John Cleese or Bob Newhart or settings for rural paeans or slightly twisted films such as Wolf, whose scene-setting was done in Roxbury.
Having at last found work as an office typist, I also had access to a copying machine, and via free classifieds in an old magazine called On_Line (from the term for a device being connected and available), began to offer update sheets to the hardware and software of my small computer, which came with me from New Jersey. I was continuing to make circuit changes and software developments that advanced my composition, including an interface to my old synthesizer, and various handmade devices.
The 1979 updates fell into the hands of Wayne Green, a quirky New Hampshire tech magazine publisher. With coaching from my new friend, mathematician and programmer and hockey fan Phil Hooper, whom I'd met while repairing televisions -- he had a computer monitor needing repair. "Really!? Come in!" -- a new career was born as a technology writer, culminating in four monthly columns for various publications within a few years. I wrote for Programmer and 80 Micro and Kilobaud and many others, and created such devices as the Rhythmatron in 1982.
Though the technology provided growth as a composer, what did that matter in oblivion? Sure, I was now a well known tech writer, but so? What the technology really brought me was a lifeline. Those were the days of dial-in computer bulletin boards, precursors to today's web forums. In 1981, upgraded to a 300 baud connection when the very local phone company sent an engineer to twist two sets of phone wires together to allow the signal enough amplitude to reach the central office seven miles away, I joined Compuserve. Live typed exchanges and electronic mail -- e-mail via a "gateway" to the "Internet," oh, the thrill! -- were possible. Compuserve even had a classical music forum, where I sparred endlessly with the likes of Steve Ledbetter -- and still do. We'll never get along, me & that conservative old coot.

Joanne Trottier and Ellie Fisher answering the phones in Green Mountain Micro's halcyon days, 1985
The uppercase-only discussion printouts from the clattering boat-anchor Teletype are in storage to this day. The conversations reassured me that I still had a mind. One can lose a mind easily fighting the elements in the countryside, giving in to the pleasures of summer and the struggles of winter, becoming a cranky once-was, telling old stories of what might have been, and blaming the world you freely chose for the failures you freely accepted, narrowing your imagination to the distance your eyes can see on a clear day in a deep valley.
That almost happened. The countryside is both seductive and punishing.
Instead, understanding that the internet could connect me to the world if I might need it, I shook off the incipient bitterness of being spurned by my erstwhile urban colleagues and learned the musical lessons Vermont had to teach. Although writing for amateurs and storefront or museum concertgoers in New Jersey, I had never written for tabula rasa audiences. Vermont boasted a state symphony orchestra for many years, but it typically drew an élite audience. Public radio had just opened a small studio in 1978. Chamber concerts were nearly unknown, save for the renaissance of Sacred Harp singing in some hippie-influenced pockets of the state. There was a pianist in town, son of some Boston exiles. An amateur flutist lived on the hill. There was no concept of a contemporary music concert that wasn't country & western. But it was not, as often assumed from the outside, a closed-minded hickishness. Rather, they were most welcoming and unbigoted audiences. I have never experienced audiences more curious and more willing to suspend their tastes and beliefs in order to accept the music they were hearing, and the be honest in their critiques. If you perform, do it among the un-blasé.
So more doors opened. David Gunn returned to Vermont and several of us together gave performances that included a peculiar mix of Medieval and Renaissance, early American, and contemporary works. We sang a resonant Ma Bouche Rit and a waltzy version of The Star Spangled Banner. We performed Larry Austin's Square and David Gunn's Redoubt. Odd pieces called Bugs and Cruise joined Will Said to His Mammy and the Billings anthem Be Glad Then, America. The local United church re-opened for the funeral of a beloved farmer, and stayed open as we formed a choir of every faith and none. We sang Bernstein's Chichester Psalms, Sia Laudato San Francesco, Billings's Amanda, Stravinsky's anthem A Dove Descending, and my arrangement of How Can I Keep from Singing?, often downloaded today and performed around the world. We created a marching band from every instrumentalist in town. I taught music in the local school, first as a volunteer and for six years on the staff. With the little extra money from Green Mountain Micro, we sponsored and -- fusileers all -- fired the town's annual Independence Day fireworks.

Here I am with the fireworks sorted & ready on this day 1988. The woodstove to the right is off in summer!
It revealed a different world to me and David, my longtime composer colleague. I created a "coming out" piece called Echo. Then we decided to purge the past with two monster concerts entitled "Closing the Book on the Avant-Garde," the second of which included the Shogun-length Mantra Canon. The next year, it was all about cabarets, and in a series entitled "2Cabarets2" we presented his Big Sister and my Beepers. My computer business failed, and not long afterward, David and I began hiking the Grand Canyon, after having made my way to Montana to create In Bocca al Lupo and joined with others to found the Consortium of Vermont Composers, where our early meetings discussed music online, half a decade before the Web made it possible.
By that time, I had been in Vermont more than a decade and New York was far behind in my thoughts, just one city, one place. David spent time in San Francisco and New Jersey, returning again to Vermont where he grew roots. And Stevie (herself in Vermont since 1973) and I moved for a time to Europe. And now we were back, having thrown off the curse of might-have-been.