A 365-Day Project
"We Are All Mozart"
A project to create
new works and change
the perception of the
music of our time.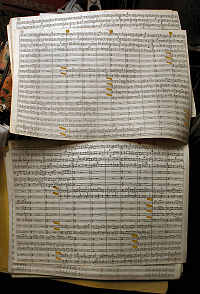 June 23, 2006
Today is newsletter day. Nothing about music. Almost every composer reading this is about to smile or sigh. This newsletter is for one of my day jobs. As a composer creating a personal schedule out of the day's hours, I freelance as a writer, editor, engraver, researcher, publicist, and even ghostwriter.
This particular day job is gratifying. A few dozen hours each month, I work as Executive Director of the Vermont Alliance of Independent Country Stores.
If you're thinking, oh, no, Vermont again, then you're right. It's an odd place, this tiny eastern state. Our congressional delegation has a majority of independents -- though there be but three of them, they represent the only independent majority of any state of the union. We also had the first grassroots statewide composers' consortium that was not an academically-sourced group, bringing new nonpop to every performing group in the state -- and succeeding so well that the group met its goal by the mid-1990s and retired for nearly a decade. It's a personal place, and you know this if you've read my other comments.
The job is gratifying because these small store owners are not unlike composers. As we individual artists pursue our lonely work in the face of an unimaginative, mass-marketing music industry, these families are struggling to maintain their personal character and pride of place against a 75-year Anschluss of absentee-owned supermarket and convenience-store chains and life-draining big box stores.
From the outside, tourists see a quiet state with cows and maple syrup and skiing and pretty fall foliage. Those who visit are sometimes charmed enough to move here, perhaps purchasing or starting a bed & breakfast or small business. They soon learn why such a place is rural, and stays so. Inside, Vermont is like most of rural America. In fact, ours is the most rural state in the nation when taking into account the fact that its people are distributed among many small villages with no urban concentration.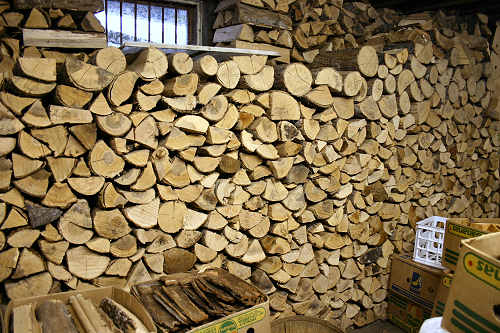 Dan and Whit's Store in Norwich goes way back and up and down, and is heated entirely with wood.
Combined with the severely cold winter weather and poor soils, the consequences are (and have been) significant. Villages on the English model were settled, tight-knit and self-sufficient communities with a general store (usually containing the post office), some one-room schools, a few churches and numerous independent working people. More than two centuries later, those villages are little different. I live in the village of Northfield Falls (and yes, there is a waterfall) with a general store, a post office, a gift shop and many self-employed people (within a five-minute walk are an auto mechanic, a lawyer, a sawyer, a carpenter, a nurse, some handymen, a stained-glass artist, many farmers who double as landscapers or heavy equipment operators or animal truckers, and of course this freelancer). Others work out of town, as does Stevie, a midwife -- though as writer and artist, she also works here at home. With its 251 incorporated places, our state government has become a good employer.
The homegrown economic and social ecosystems are unique and fragile. In the most successful program of its kind, Dr. Dynasaur provides comprehensive health coverage for children under 18. Our land use and environmental laws date from 1970, and have kept the state's waters clean and its farms alive. Our education is good, and it's personal. The civil union began here. Our constitution provides stronger liberties than the federal one. Secessionist movements arise now and then, as Vermont may be the only state with a legal right to leave the Union. Not everyone agrees Vermont is ideal, but we are civil to each other and even those who disagree most strongly will never withhold a helping hand to one in need.
Vermont is not much of a cross-cultural mecca. Yes, it was a major stop on the Underground Railroad during the Civil War. Refugees from Central America and Eastern Europe have been welcomed here. About one in eleven is French Canadian. There was never much indigenous culture, only the small Abenaki Nation (one of whose leaders runs the Evansville Trading Post). It has boutique culture, such as its jazz and reggae festivals and taiko drummers and pan bands. But overall, Vermont is very, very white.

Ralph Swett's store in Evansville is the only one owned by a member of the Abenaki Nation.
But it's protective, even of strangers. Anyone hauling into Cavendish in search of the town's most famous exile, Russian writer Alexander Solzhenitsyn, would have met with furrowed brows and an "I'm not quite sure...".
As in most rural areas, Vermont's longstanding families jealously guard their designation as natives. There's the joke that I was told nearly 30 years ago when I moved here that explains it all. It seems there was a newcomer in town, a nice young fella who stayed the winter to prove his mettle, worked hard, made a few nodding acquaintances, and dropped by the country store every few days for supplies. An old gentleman was always there, setting by the woodstove in winter and on the porch in summer, smoking his pipe. The two had long conversations, which almost t'once turned toward how long it would take the former flatlander to become a Vermonter. "Nevah be a Vermonter," said the old man in his broad northern accent, "got to be from here." The discussion went on for years, through the young fella's marriage and building a new home up the hill. One day in late spring, the old gentleman, sitting outdoors for the first time that year, saw his younger friend, hair thinned a bit over many winters, rushing up the street. Taking a breath that couldn't undo his wide grin as he brushed back that thin hair, he exclaimed, "So!" Another breath, and then he said, "Maybe I'll never be a Vermonter. But we had a beautiful little girl today. She was born here, so at least she's a Vermonter!" The old man's eyes twinkled as he rocked back in his chair, looking out over the green mountains and drawing on his pipe. After a long pause, he looked back at his young friend, quietly but firmly stating, "Cat climb into the oven to have kittens, it don't make 'em muffins."
So back to the country stores. (I can't say "Vermont country stores," because that designation was snapped up by the chic and very trademark-protective southern Vermont corporation that markets blocks of cheese and wooden cutting boards and soaps and boots -- "merchants of nostalgic and practical merchandise" as their motto says. Nice folks with a bountiful foundation, too. But they got the good name, and don't take kindly to its usurpation by the rest of the state's genuine country stores.)

Jim Currier's Glover Store is the town's post office and a natural history lesson in Vermont's wildlife.
In any case, having to interpose "independent" between "Vermont" and "country stores" turned out to be significant. The cliché of 'herding cats' comes to mind. Unlike corporate-run outlets, these independent stores carry just what their clientele wants, be it milk or hardware, doughnuts or horse feed, organic veggies or pizzas. They're obstinate with suppliers about pennies, and generous to a fault with the community. They agree on nothing. In the newsletter I'm putting together today, we're announcing our new private label, Vermont Village Foods. How many will put this label on their shelves after two years of work? Who can say. Maybe two. Maybe thirty. They're independent, and nobody, not even the very organization they created, is going to tell them what to sell.
But you've got to love dedicated families who work their stores from 6 in the morning to 9 at night and will always carry a particular soap or doughnut or wine because their customers ask for it and will open their doors when their village most needs them. So if you visit Vermont, drop in on one of these country stores -- and stay long enough to have a look around.
Now I've got to get to work.