A 365-Day Project
"We Are All Mozart"
A project to create
new works and change
the perception of the
music of our time.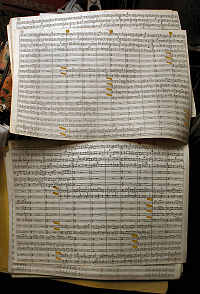 June 17, 2006
Composer-performer-writer-entrepreneur Mary Jane Leach has a wonderful concert space, the shuttered church she bought in Valley Falls, New York. A complimentary piece entitled "The church lady" that appeared in the Albany Times-Union talked about the acoustics and intimacy of the church for chamber music. The article was written by Joseph Dalton, who was head of CRI Records until its closing a few years ago. He understands the kind of questions to ask, and one can hope that such a good article will bring a good audience.
I haven't performed in the space before, but Beth Griffith premiered By Still Waters there last year in a shiveringly beautiful performance. It's a long round trip from here or from New York City -- about three hours' drive either way. At least it's a beautiful summer morning, and being in the space again should be glorious..
Daniel Goode, Michael Farley and I are sharing this program. And if it works out, Mary Jane will be joining us in an improv session at the end of the concert. Details of today's afternoon concert, including perhaps some concert audio, will be posted when I return this evening.
Later
Too late for tonight, except to say that the concert was a success and the day combined sun and bluster and mist and rain and fog and flowers and song.