A 365-Day Project
"We Are All Mozart"
A project to create
new works and change
the perception of the
music of our time.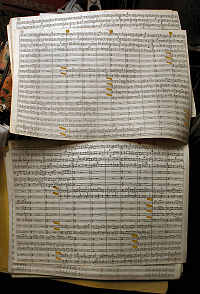 June 16, 2006
I'm performing tomorrow. That performance represents the return to certain compositional roots after a long, circular journey. It is also a special honor.
Experimentation in extended techniques was at its height when I was first emerging as a composer. Noises abounded. Even the local Trenton Music Shop, run by a pair of stereotypical little old classical music ladies, had two strange scores entitled Sequenza III for solo voice and Gesti for alto recorder, both by Luciano Berio. In those days, I played recorder quite well and had studied voice, and my former partner Linda Karan had just graduated with a degree in voice. We both learned the extended techniques set out by Berio, and she performed Sequenza later than year, at a suburban public library concert in 1970. (I was never able to achieve the level of technique needed to do Gesti.)
Advanced notation of music such as the kind found in Sequenza is still criticized by performers and publishers as unnecessary, vague and time-consuming. I'll agree to the latter, and to that only because serious attempts at overhauling notation have been consistently misrepresented and rejected. Yet such notation is both necessary and reproducible, the hallmark of any effective means of communicating realization, execution and expression. Several years after Linda's performance, we found a copy of Cathy Berberian's recording of Sequenza. Taking into account differences in voice quality, the performances were otherwise nearly identical. The ostensibly obscure and vague nature of Berio's notation conveyed exactly the same meaning and instructions to two performers of very different age, experience and geography.
The extended techniques fascinated me. Always a vocal imitator and a maker of mouth and body noises, I began practicing them more seriously, including the ability to sustain sounds and make quick transitions of sound, character, and emotional state. The sounds became part of several early (mostly electronic) compositions, culminating in 1973 with Specimen for six performers and i cried in the sun aïda for four voices (with the first version overtracked by my voice alone). About that same time I discovered both Hans Werner Henze's heavily political Versuch über Schweine sung by Roy Hart and Peter Maxwell Davies's thrilling Eight Songs for a Mad King sung by Julius Eastman, and sometime later other extended and processed voice pieces by Jean Barraqué, Maurice Ohana, and Ivo Malec -- plus more by Berio.
All were riveting. Hart's performance was terrifyingly dramatic and avant-garde in the European style to which I'd become accustomed in Berio and Stockhausen's Gesang and Momente. But Eastman's work was very different. It was transformational, in part because the language was English, in part because Eastman -- about whom I knew nothing at the time -- had a kinship with the language that seemed familiar. I could grasp how meaning was both infused in and evaporated from the words, in ways that Berio had tried to strip away and that became absurd and tiring in Ohana's Syllabaire pour Phèdre.
For three decades, Julius Eastman remained for me only the voice of King George, also a haunting memory of my own extended voice work, which I had given up after moving to Vermont, where extended voice's artifice seemed, well, artificial and even hyperbolic. Sometime in the 1980s, I learned that Vermont composer Don Stewart had helped produce the Eight Songs recording -- a small thread of a connection, but no more.
Then Eastman's name began to return to visibility, particularly with the hard work of composer Mary Jane Leach, who brought together his extant recordings and scores. He was, I learned, also a powerfully imaginative composer. (The small, geographically delineated composer circles such as Buffalo's Creative Associates were not always obvious to those of us living during the pre-internet days in the chemical wasteland of New Jersey midway between New York and Philadelphia.) And last year, the Eastman recordings appeared.
What makes tomorrow's performance especially satisfying is that I will be performing in Mary Jane's new performance space, a converted church in Valley Falls, New York. It was there that the restoration of Eastman's place in new music was undertaken.
The performance came about because in the early 1990s my life arose out of a long period of compositional torpor, and I began creating and performing occasional extended voice pieces again. Though my vocal mechanism is aging, it still can project some interesting and occasionally lovely and dramatic results. Working with extended techniques has a great deal to teach, not only about how we understand music (what is as yet unlearned so far into the future from 1950s Berio and Stockhausen!) but also in how audiences are drawn into the multiple entendres of sound and meaning, and how the performer must subjugate the personal to the art -- a humbling experience. Certainly in these postmodern times it's less disturbing than a generation ago to hear, for example, a male voice becoming a voluptuous female drooling or spitting meaningless syllables, but the fast and continuous shift and melding of character, harmonics, psychological tone and emotional content can deeply involve audience and performer -- and leave them both exhausted. In my pieces, I'm also fond of broadly parodying both how we expect to be talked to and how the avant-garde used to treat the voice so seriously, so humorlessly.
I hope to finish a new piece in the next few hours for presentation tomorrow. Also, i cried in the sun aïda will be performed again in August in New York as part of Tom Hamilton's "Cooler in the Shade" series by a new complement of performers (David Gunn, Lydia Busler-Blais, Noah Creshevsky, and me).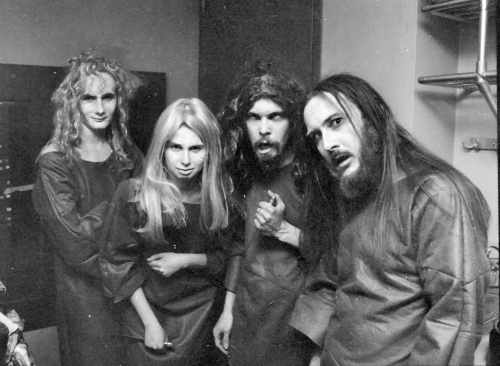 The Dashuki Music Theatre performing Stoneworld Grey from 1977, one of the last of my avant-garde works. Left to right: Richard Fredette, Pamela Ritterbusch, David Gunn, and me (the only one sans wig).