I like a bargain as much as the next person. Probably more. That's why I usually let the sale prices of hiking paraphernalia dictate my purchases. If it's on sale, chances are I can use it. But how? Now I'm not talking cheap; I'm talking ON SALE. In front of me at the moment is a Sierra Trading Post catalogue, a great outfit that offers overstocks, close-outs and irregular merchandise at ON SALE prices. For example, here's a Merrell light hiking shoe, regularly $74.95, ON SALE for $37.50. It's a close-out because the color--grey & bright coral--is not the sort of hue one might want covering ones toes. Well, I do! Especially if it's O.S.

One time, I was prepared to let ON SALE merchandise totally determine my next adventure. But when I entered the camping salon and saw the ON SALE display for bungee-jumping paraphernalia ... well, forget it.

My tent was not ON SALE. It was expensive. But its iridescent green color and ultra-light weight outweighed the need for a bargain. But I don't make a habit of this selection process.

My hiking boots were ON SALE, but I had to drive 100 miles to Campmor in Paramus (New Jersey) to get them. Some might quibble that what I gained in price, I more than lost in turnpike tolls, gasoline and lunch. To which I reply, oh shut up.

Dennis was all set to buy an internal frame backpack at a provender of hiking gee-gaws in Montpelier, Vermont. Convenient, but pricey. I assured him I could do better at Campmor. OK, this time I was actually passing right by the place en route from New Jersey to Vermont, so forget the tolls and gas. And, yes, the pack was ON SALE. OK, so he's had to effect repairs on it a few times, so what? It could happen to anyone. I also got him his Eureka! tent O.S.--it'd been a floor demo and had a small rip in the fabric. But it had been mended, worked fine, was a good earthy color, and the price was right. And I think it's been trouble-free, what a relief.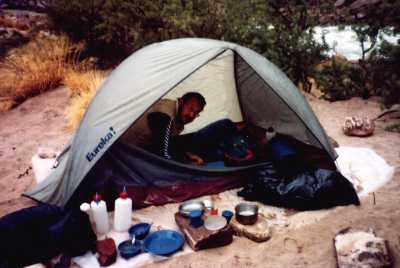 Dennis's Floor Model Eureka! at Work
I bought my first backpack ON SALE. This may have been a mistake. It was a dull gray in color, and the adjustable stays never adjusted quite right. It always sat on my back a bit funny, straining my latissimus dorsi. Also, at 3,300 cubic inches, it was too small for multi-day hikes and I had to tie on whatever wouldn't fit inside--camera, food bag, Thermarest, tent, pajamas, umbrella ... well, you get the idea.
At the same time, I bought my first sleeping bag (this was a store-wide sale, see). It was blue. And bulky. And supposedly would keep me warm to 20ºF. I used it a few times, got very cold, got rid of it, got another one. Hey, is this chapter losing some of its credibility? Well so what!
Let's see, I buy a lot of food ON SALE, especially the normally expensive pre-processed dinners, and they've never presented any untoward problems that I can remember. Oh wait, there was that time ... but never mind.
Clothing! ON SALE, of course. At least my rain pants and polyprop tops were. Uhh, come to think of it, everything else was full price. And so another nail into this chapter's credibility coffin.
OK, let's wrap it up. If you see some camping doohickey and it's ON SALE and you think you can use it and it doesn't look like a Third World reject, then by all means buy it. If nothing else, it'll make a swell conversation piece some day.
---
The Middle-Aged Hiker is Copyright ©1993-97,2002 by Dennis Báthory-Kitsz and David Gunn. All rights reserved.
---
---
---